Let's not waste time and directly go through all the important information about the Stay True texture pack together. According to the creator, during the creation process, he made sure that the changes he made would bring more variety and colorfulness to Minecraft. More precisely, he redesigned the textures so that there would be no repetition of the look and everything would look more realistic. This is a really good approach because in real life you won't find two rocks that look exactly the same either.
All the different textures are wonderfully interconnected and create an atmospheric mood. This is the result of the smooth transition from one block to the next, which vanilla Minecraft doesn't have. Each biome looks much more aesthetically pleasing due to the Stay True texture pack because the entire landscape harmonizes much better.
Furthermore, Stay True adds many new animations. For example, turtle eggs and some ores are animated. The turtle eggs wiggle a bit and give the impression that there is really something in there. Whereas the ore blocks shimmer and sparkle. Small details like these make your Minecraft world come to life. In other words, the texture pack brings more energy to the game, which means more fun for you.
By the way, you might have to expect your Minecraft FPS to drop a bit. That can happen if you're not playing with the default textures. Normally, you don't have to worry about that and you can still download a cool shader that will improve the graphics even more. However, you should only follow this advice if you have a good PC. To everyone else with bad computers: Stay away from shader packs if you don't want to crash Minecraft.
Now we come to another topic. Do you ever feel that some blocks in the default pack just don't look nice? Well, we have had that feeling. A few updates ago, the andesite, granite, and diorite blocks were added and we haven't really made friends with them yet. Apparently, many others feel the same way because we rarely see these blocks used in Minecraft buildings. The main reason for this, in our opinion, is that they simply don't look good. Fortunately, we have the Stay True texture pack to help us out here, which completely redesigns the aforementioned blocks and makes them look much more appealing.
Stay True is compatible with these Minecraft versions: 1.20.1 – 1.20 – 1.19.4 – 1.19.3 – 1.19.2 – 1.19.1 – 1.19 – 1.18.2 – 1.18.1 – 1.18 – 1.17.1 – 1.17 – 1.16.5 – 1.16 – 1.15.2 – 1.15 – 1.14.4 – 1.14
---
Environment
GUI
Items
Mobs
Particles
Terrain
Video
&

Screenshots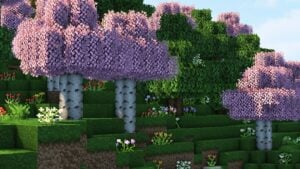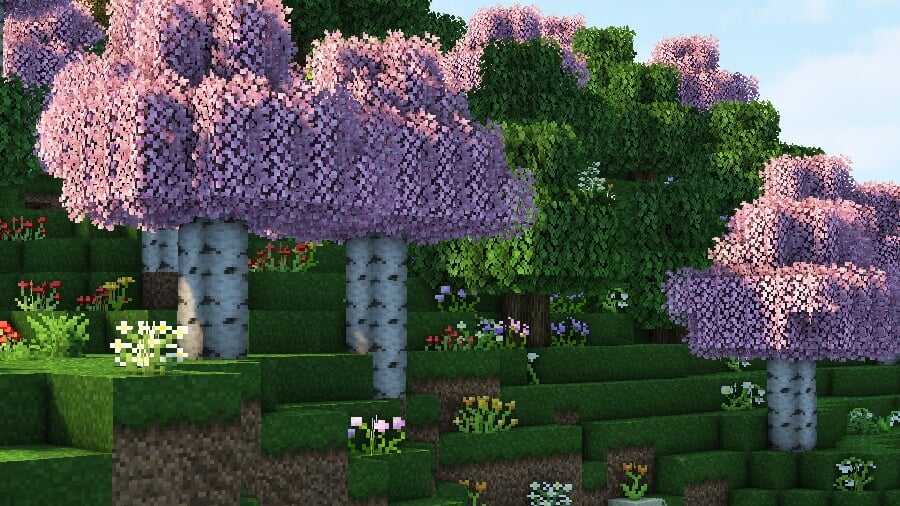 On the screenshots, you can see a few in-game shots that show what you can expect. For sure, the oceans and rivers will be a real highlight for you from now on, because due to the custom watercolors, each body of water in your world will look much more realistic. And you'll also see that there's a wide variation of rocks when you go underground.
If you like default edits, then you should definitely check out New Default+, as this pack also has a free version for Bedrock and Minecraft PE. Both resource packs have the common feature that all blocks and items have a 16x resolution. Also, they only minimally change the base textures, which is why you'll never feel out of place. In the end, both Minecraft Vanilla Edits manage to break the monotony, which is proof that even low-resolution resource packs can be graphically beautiful.
Comparison
Use our comparison tool to compare the Minecraft default pack with Stay True.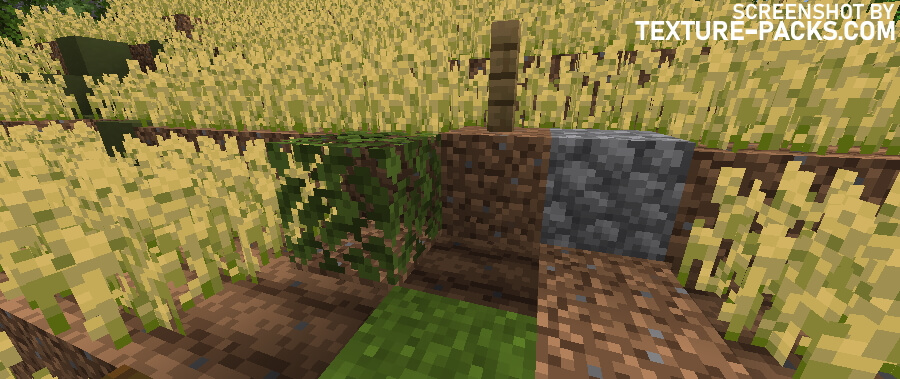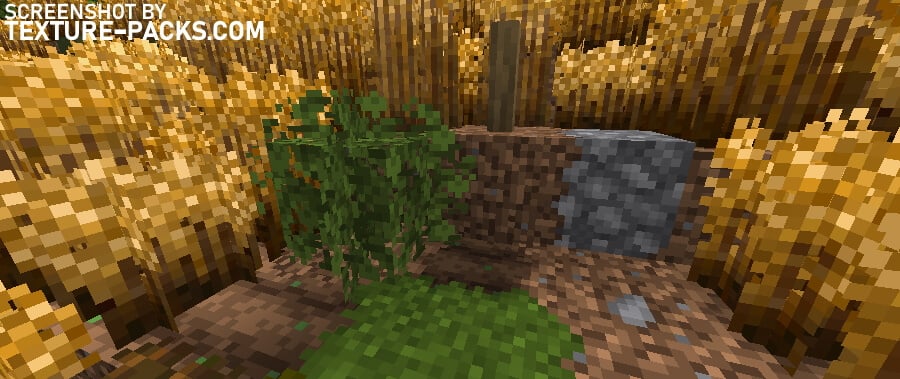 How to install the Stay True Texture Pack
A rather small disadvantage for you is that you need Optifine for this pack. Honestly, we don't know any Minecraft player who doesn't use this mod, so it shouldn't be too much of a problem for you. Maybe you simply didn't know what it was until now and that's why you haven't played with it. Don't worry, we have written a detailed guide for Optifine as well.
Why is this additional mod needed at all? It is quite simple to explain. One of the main functions of Stay True is to connect all textures. Moreover, pink birch leaves and overlays are added and all this works only with the help of Optifine. Accordingly, you must make sure to install this mod before you start using Stay True.
Download the Stay True texture pack.
Launch the Minecraft Launcher, select the correct profile, and then click "Play".
In the main menu, you need to click on the "Options" button and go to "Resource Packs".
Open the resource packs folder with a click on "Open Resource Packs Folder" in the lower left corner.
Move the Stay True texture pack into this folder.
Go back to the Minecraft window and activate the pack. You will see the pack on the left half of the resource pack screen. If it is not displayed in Minecraft, you need to unzip the file.
Move the cursor to the pack logo and click the arrow pointing to the right.
Click on "Done".
The game may tell you during the installation that the pack was made for a newer or older Minecraft version. This is an error and you can still activate the pack.
Stay True Texture Pack Download
Blocks

Items

Creativity

Animations
Summary
The Stay True texture pack improves with the help of Optifine the look of Minecraft. It's an edit of the current default pack.