ADVERTISEMENT
We play a lot of Minecraft of course, since we're writing articles like these on a regular basis, but it's easy to lose track of how "old" Minecraft really is at this point, due to its inherently retro artstyle. Minecraft only came out in 2011, but given the old-school look of the game, some people may find themselves wanting something that looks a little more modern at times. For now, we're happy to talk about a new texture pack that's going to be perfect for those gamers wanting to scratch that particular itch. Introducing Prime's HD Textures for Minecraft.
So what's going on with this project? Well, many Minecraft texture packs look to update the graphics with a new style fitting whatever the user may be interested in. Such texture mods are oftentimes much more transformative than shaders due to this nature. Some packs will change so much in Minecraft so dramatically that it can be hard to even tell what game you're looking at. That is not the case at all with Prime's HD Textures. This one basically looks to update Minecraft's "old" blocks with a new and shiny coat. Basically, you can expect your Minecraft world to look similar to before, but with a much higher resolution.
A Closer Look at Prime's HD Textures
If we look at the textures on offer here, they're basically the same as the default Minecraft ones. Only the resolution has been updated to the point where they no longer appear pixelated and retro. That's not to say the pack here completely removes the pixels, it simply updates the blocks and items to the point where there are more pixels per texture. If you like pixel packs, download F8thful.
Think about how graphics from the Nintendo Entertainment System got way better once the new console, The Super Nintendo Entertainment System, came out. If you weren't around at the time, this example might be a bit esoteric. The bottom line here is that the new assets from Prime's HD texture pack seem kind of like the jump in the quality we got going from 8-bit to 16 or 32-bit graphics. To us, vanilla Minecraft textures sort of feel like 16-bit graphics and this pack feels like it ups them all the way to 62-bit pixel art, if that makes sense. Although the Prime texture pack has resolutions up to 512×512, so maybe all this talk of specific pixel numbers is a moot point anyway.
Free vs. Premium: Exploring Resolution Options
Numbers aren't important here, what is important is how much nicer this is going to make Minecraft look for you. It's everything you love about the classic gameplay made to look nicer due to the work that the creator Prime_Mods was willing to put out there. And the great news is that this is all free! Well, mostly free anyway. Prime_Mods offers this project to anyone who wants to use it for free, but only the 32x version.
If you are interested in higher-quality versions, you can check out their Patreon. You can download the 64x, 128x, 256x, and 512x resolutions as Patron. But honestly, we think that the free Prime's HD texture pack version is perfectly fine. Yes, the higher-resolution versions are technically a bit nicer, but you won't notice much of a difference if you don't play Minecraft with an absolutely monstrously powerful PC, as well as a 4k or 8k display that can even output the difference in quality in the first place. 32x is fine for regular people, everything beyond that can be a good option for enthusiasts.
Skybox, Sun/Moon, and Cloud Updates
In addition to all the blocks getting a visual update, the Minecraft skybox as well as the sun/moon also receive a nice-looking update. The moon looks almost like a block-shaped planet in the sky. The classic Minecraft clouds have also been updated to appear more naturalistic. Looking over some of the screenshots provided by the developer, it really does make Minecraft somehow feel cozier and warmer than before. Maybe it has something to do with how everything almost looks smoothed down, after all, softer edges are much more inviting than hard abrupt ones.
In short, we feel very comfortable recommending Prime's HD Textures for Minecraft to anyone who is interested in making their Minecraft experience a bit more modern, at the price of maybe a little bit of nostalgia. But we're living in the future, and the future is good, so if you aren't afraid of a bit of change for the better definitely check out this pack, it gets our solid recommendation. By the way, this pack is also a great alternative for Faithful.
Prime's HD Textures are compatible with these Minecraft versions: 1.20.1 – 1.20 – 1.19.4 – 1.19.3 – 1.19.2 – 1.19.1 – 1.19 – 1.18.2 – 1.18 – 1.17.1 – 1.17
---
Art
Font
Misc
Particles
Audio
Video
&

Screenshots

ADVERTISEMENT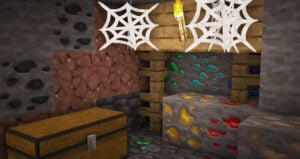 How to install Prime's HD Textures
Download and install OptiFine for custom sky colormaps that paint the heavens with vibrant hues.
Click on Prime's HD texture pack download link that is compatible with your game version and Minecraft edition.
Launch Minecraft.
Click on "Options" in the main menu.
In the options menu, go to the submenu "Resource Packs".
Click on "Open Pack Folder" at the bottom left.
Move the downloaded ZIP file into your resourcepacks folder.
You will see the pack on the left half of the resource pack screen. If it is not displayed in Minecraft, you need to unzip the file.
Move the cursor to the pack logo and click the arrow pointing to the right.
Click on "Done".
The game may tell you during the installation that the pack was made for a newer or older Minecraft version. This is an error and you can still activate the pack.
Prime's HD Textures Download
ADVERTISEMENT