ADVERTISEMENT
Minecraft needs some improvements to keep up with newer video games. Fortunately, there are a lot of resource packs on the internet that you can download to make the graphics much better. One of them we're going to show you today is the brand new Limitless texture pack, which has a lot of photorealistic textures. This means that the blocks and items are based on real images. However, some things have been modified and the images have not been taken over in their original state. For example, the developer has adjusted the blocks so that everything looks more uniform and the landscape is not destroyed.
Meanwhile, it's not so easy for creators to stand out from the crowd, because nowadays there are many different Minecraft add-ons that improve the gameplay. In our opinion, the Limitless texture pack manages to keep up with its competition. Among other things, we come to this conclusion because the Limitless Designs company releases regular updates, which some competitors don't do. Accordingly, more and more textures are added, which is also extremely important, because not everything has been redesigned yet. So you can be sure that gradually every single block in Minecraft will look extremely realistic.
Extremely realistic armor
One of our favorites is definitely the diamond armor. Simply because it shimmers incredibly beautifully in combination with a shader and is very detailed. This makes it look like real life and such precious armor should also look like wealth in Minecraft. Of course, all other armors are extremely realistic as well.
By the way, the creator "StaketheSteak" and his team have been working on the Limitless texture pack since 2020. Moreover, you can download the pack in several different resolutions. For example, Limitless is available for free, but unfortunately with some limitations. The biggest one is the lower resolution because in the free version, all blocks and items are only 128x and 256x. Whereas the paid version has the best quality. We used the most up-to-date and highest-quality versions for our screenshots and for the videos on our YouTube channel. In the end, it's up to you whether you want to pay money or not.
Limitless is compatible with these Minecraft versions: 1.19.4 – 1.19.3 – 1.19.2 – 1.19.1 – 1.19 – 1.18.2 – 1.18.1 – 1.18 – 1.17.1 – 1.17 – 1.16.5 – 1.16
---
Video
&

Screenshots

ADVERTISEMENT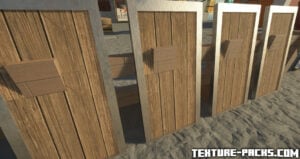 How to install the Limitless Texture Pack
The Limitless texture pack download starts with just one click if you choose the free pack, but you will be redirected to Patreon if you choose the paid download links instead. There you can choose between three different membership levels. Read everything carefully and after successful payment, you will get access to the Patreon posts.
All the steps are the same from now on. Run the Minecraft Launcher and select a game version.
Click on "Options…" in the menu and then on "Resource Packs…".
Drag the downloaded ZIP archive into this window. A new pop-up will open. You have to answer "Yes" to the question if you want to add the Limitless texture pack to your list.
The complete activation is done only when you move the pack from the right to the left side and click "Done".
Now you need to download OptiFine. Follow the linked installation guide and only then you can proceed with the next steps.
There will be new menu items in the options after you install Optifine. Click on "Video Settings…", then on "Shaders…" and at the bottom left on "Shaders Folder".
Download SEUS PTGI HRR Test and move it to the Shaders folder.
Select SEUS and click "Done".
Best settings
"Quality Settings > Connected Textures" to Fancy
"Quality Settings > Natural Textures" to Off
"Quality Settings > Custom Colors" to On
"Quality Settings > Anisotropic Filtering" to OFF
"Detail Settings > Alternate Blocks" to On
"Detail Settings > Trees" to Smart or Fancy
"Performance Settings > Smart Animations" to On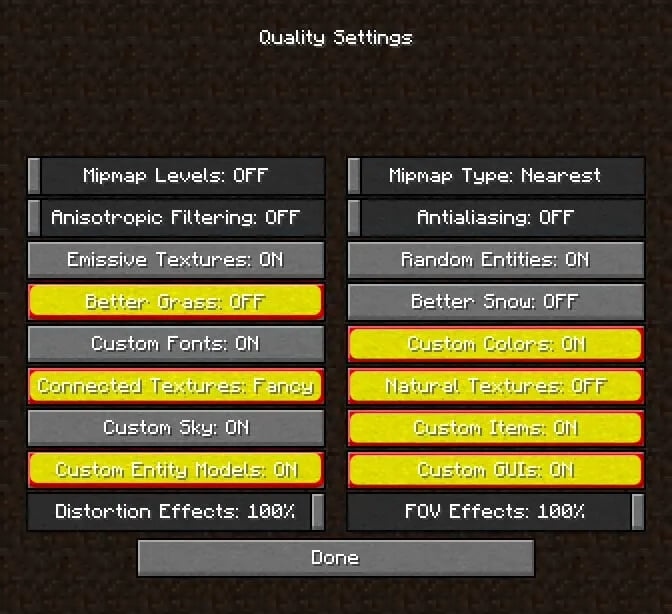 Limitless Texture Pack Download
ADVERTISEMENT
Blocks

Items

Originality

Completeness
Summary
Limitless focuses on extreme realism. The textures are optimized with a lot of attention to detail. Sometimes you can even see 3D blocks, because a lot of effort has been put into the reliefs as well. All in all, you will quickly notice in-game that excellent work has been done. Our rating is very positive.