Every year, children and adults around the globe dress up in scary costumes to celebrate Halloween. They dress up as ghosts, witches, skeletons, zombies and sneak around the neighborhood. Sometimes during the night from October 31st to November 1st whole houses and gardens are decorated and that gave developer an idea. He created a complete Halloween texture pack for Minecraft. The official name is Evil Texture Pack. However, the pack is not for scaredy-cats, because at first you might get scared. Many textures serve only one purpose. They are supposed to scare you and give you a little bit of a fright.
If you look at the blocks, you immediately notice that some of them are animated. Sometimes you can see creepy faces, which move spooky. Everything reminds of horror movies, which use similar stylistic devices. If you get the idea to look for diamonds, be warned, because at the end of the world you will find custom bedrock. But we won't tell you more about it, because you should test the Halloween Texture Pack for yourself.
Another aspect are the PvP items. Especially the reworked swords are a highlight. They are shorter and slimmer than usual and fit perfectly in your virtual hand. Thanks to the shorter blade, your field of vision is increased and you have a better overview in combat situations. Otherwise, many items are in Halloween style and accordingly you will see the color orange a lot. For example, the normal cake turns into an orange pumpkin pie and all diamond items have also fallen into the orange color pot.
Of course you can use the Evil Texture Pack after the end of the festivities. After all, Halloween is celebrated every year, so the pack will always be up-to-date anyway.
This Evil pack is compatible with these Minecraft versions: 1.16.5 – 1.16 – 1.15.2 – 1.15
Screenshots & Video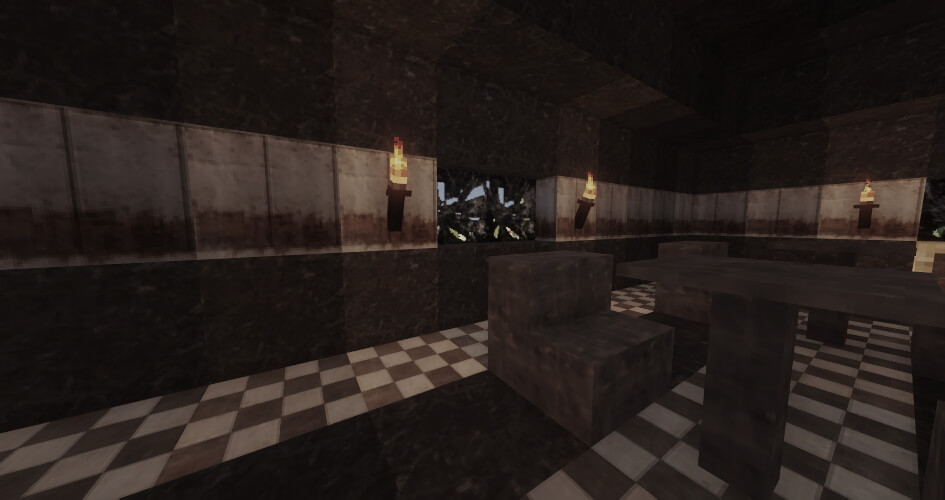 The screenshots are very dark and give you a first taste of what to can expect in your game world.
How to download and install Evil Texture Pack
First of all, we recommend you to install Optifine, as it improves the performance significantly. Because of the numerous animations it can otherwise cause annoying lags.
Install Optifine and then the Evil Texture Pack. Click on the download link of the pack and the file will be downloaded in seconds.
In Minecraft you navigate to your options, then to Resource Packs and finally click on "Open Packs Folder". In this folder you move the Texture Pack.
Now close this folder and the pack will be displayed in the game. However, an error message will appear, but you don't have to pay attention to it. Almost all textures will work and you don't have to worry about Minecraft crashing.
Blocks

Details

Items

Shader compatibility
Summary
It's Halloween time in Minecraft too! Download and install the Evil Texture Pack and bring the creeps to your game world. Let's see how long you last.