If there's one thing that almost defines us as human beings, it would have to be our collective shared love of animals. We live in an amazing world, with animals of all shapes and sizes. Many people even have animals as pets. And since we all love animals so much, it's only natural that we should expect to see many of them in some of our favorite games. And wouldn't you know it, today we're going to be talking about a really great texture pack that you can get for Minecraft called simply the Animal texture pack, otherwise known as "Better Vanilla Animals", which was created by Rozarke. His real name is Emil Berlemont and he plays guitar in a band in real life. Rozarke loves to create simple texture packs for Minecraft in his spare time. And lucky you, this texture pack is completely compatible with Minecraft Java Edition and Minecraft Bedrock Edition/Minecraft PE. The short name of this project is "BVA".
Minecraft Animals
Minecraft is a huge game, obviously. If you've even taken a few seconds to play the game on your own you are no doubt already aware of this. There are unique biomes, blocks, foliage, enemies, and tons of other great things that you can discover all on your own. However, one thing that tends to get overlooked pretty often are the Minecraft animals. They are mainly based on real life animals and mythical animals. There are more than 25 different types of "friendly" animals in this game. It should be pretty obvious when you've found a passive animal because it won't immediately try to kill you like a typical in-game enemy would, like a Creeper or a Skeleton Archer.
Minecraft has been adding different animals to the games for years now since the game originally came out. In 2013 Minecraft added horses, and with the addition of horses, we now had tamable animals within the game. No longer were you forced to traverse the world either on foot or on a minecart. You now had a whole new option to go exploring with. Horses are much faster than moving on foot would be, but it can take some patience when it comes to taming one, let alone finding one.
Animal Texture Pack Features
Horses are just one example of a Minecraft asset made much more expressive and interesting with the better Animal texture pack. It's difficult to describe in words, but the subtle improvements in the appearances of these animal textures are immediately noticeable. It might not improve the experience dramatically in the same way that adding something like a new Minecraft shader pack would. All in all, it is definitely a very good "quality of life" improvement for Minecraft and something that we wish Mojang would get around to polishing up.
In addition to the textures being slightly improved, the animations are also a little bit better in some subtle ways. If you walk up to pigs in Minecraft, for example, their floppy ears seem to perk up more than they did in previous versions. If you try and explain the differences to a non-Minecraft fan they may think you're crazy (believe us, we've been there), but since we're basically always in these worlds, these animals are basically our neighbors if you think about it. If you want better animations for all mobs, download the Fresh Animations texture pack.
Every time you go out for any resource in the game, wood, sand, coal, you name it, you are basically always going to run into an animal or a friendly spawn at some point. And let's be honest, we love those default vanilla chickens, but aren't you even just a little bit tired of the same old chicken every single time you walk by them? Sure, you could go out of your way to replace them with something completely different; there are definitely texture packs built for that. But that's not what we're looking for here. If you're looking at this Animal pack for Minecraft, you're probably like us in that you want a chicken that looks 90% like the chicken you're used to, if that makes any sense at all.
It's like they say, if it sounds like a chicken, looks like a chicken and clucks like a chicken, it's probably a chicken. So why would you want to get a different texture for your chicken besides, well, a chicken-themed one? We're going to stop talking about chicken now; the word is starting to lose its meaning it's being said so much.
More than 25 new animal textures
Horses, pigs, and cows are some of the most well-known and classic animals in Minecraft, but did you know about the other ones? As we said earlier, there are about 25 different animals and pets. Some of our favorites in the game, such as the wolf and the sheep, have gotten nice makeovers that make them feel fresh again somehow. It's funny; you don't have to do too much to keep these cute animals feeling unique and fresh since their base shapes are so basic. Even the smallest of changes make a huge difference. This is something that this Animal texture pack is perfect for.
If you're somebody that raises, breeds, or heavily interacts with the animals in Minecraft, the Animal resource pack is basically a must-download. There is very little reason to not use this one, and it may even inspire you to get creative and look at these animals in ways you haven't before. Maybe you'll have an idea about starting a huge Minecraft petting zoo, or maybe you will find yourself suddenly wanting to be a Minecraft beekeeper. That's the great part about Minecraft; the decision is entirely yours to make, and if you like the mobs as much as we do, then the decision to download this Animal texture pack is absolutely a no-brainer.
Better Vanilla Animals is compatible with these Minecraft versions: 1.19.4 – 1.19.3 – 1.19.2 – 1.19.1 – 1.19 – 1.18.2 – 1.18 – 1.17.1 – 1.17 – 1.16.5 – 1.16
---
Video
&

Screenshots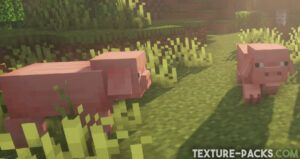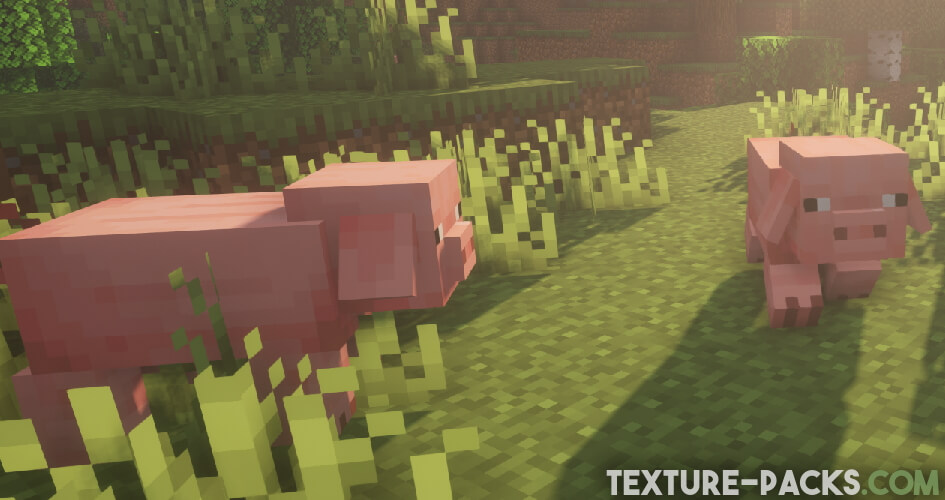 Comparison
Use our comparison tool to compare the Minecraft default pack with Better Vanilla Animals.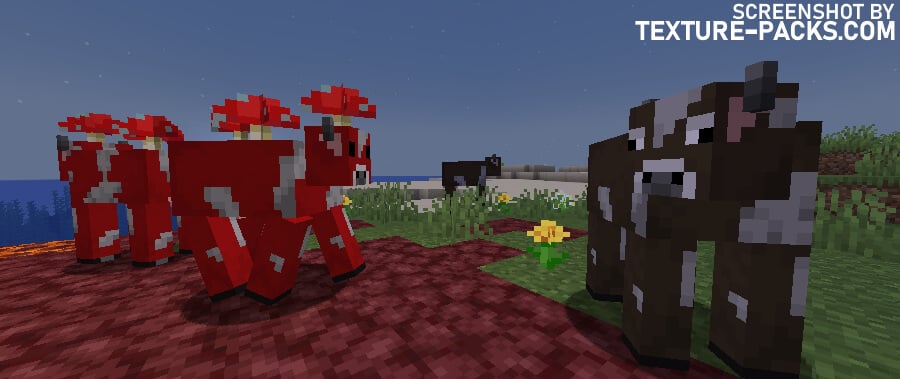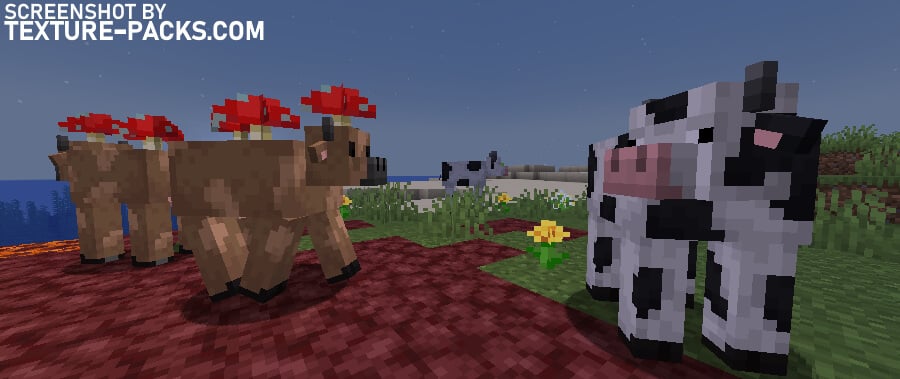 How to install the Animal Texture Pack
Download and install OptiFine. With this mod, the pack will change mobs in certain biomes and add new mobs at the same time.
Click on the Animal texture pack download link that is compatible with your game version and Minecraft edition.
Launch Minecraft.
Click on "Options" in the main menu.
In the options menu, go to the submenu "Resource Packs".
Click on "Open Pack Folder" at the bottom left.
Move the downloaded ZIP file into your resourcepacks folder.
You will see the pack on the left half of the resource pack screen. If it is not displayed in Minecraft, you need to unzip the file.
Move the cursor to the pack logo and click the arrow pointing to the right.
Click on "Done".
The game may tell you during the installation that the pack was made for a newer or older Minecraft version. This is an error and you can still activate the pack.
Animal Texture Pack Download