ADVERTISEMENT
Anime has come a long way since it became a big deal in the early 2000s. Anime culture has been around for far longer than that, but we'd argue that around this time, and during the late 90s, anime really started to take its roots in modern culture. Fast forward to today and it's nearly impossible to find an adult male who hasn't watched and enjoyed classic anime shows like Dragon Ball Z or Pokemon. And if you're someone who enjoys anime as well as Minecraft, there's a good chance you've wondered yourself what Minecraft would be like with a more anime-style aesthetic. Well, we've got good news for you since that's exactly what we'll be talking about today with the anime texture pack for Minecraft.
If you're someone that doesn't like or doesn't watch anime, this pack may not appeal to you for reasons we'll go over shortly. However, if you do watch and enjoy popular mainstream anime, such as Jojo's Bizarre Adventure and My Hero Academy, you'll find lots of things to enjoy in this anime texture pack. If you're wondering about compatibility, this project is being updated on a regular basis and has been supported by the author "Spooki Kabuki" for the last three years or so. It is completely compatible with Minecraft Java Edition as well as Minecraft Bedrock Edition/Minecraft PE, so check to see that you are running a supported version before you download this anime meme pack. The blocks are not in HD, but that's okay because it is FPS-friendly. The low-resolution textures are perfect for PVP modes like BedWars.
Best Features of the Anime Pack
In the latest update, we can now enjoy one of the best additions to the anime texture pack: new anime bed overlays for Minecraft which take the form of anime "body pillows". If you own a body pillow in real life you'll be happy to see that you now have the option of adding one to your Minecraft house. Admittedly it's a bit limited since they mostly act as textures for the bed, but it still gives the overall feel of a body pillow when you take a look at it.
Waifu mobs
Villagers have also gotten completely remade skin models to resemble popular anime characters, such as Emilia from Re: Zero, a fan-favorite waifu character who would typically compete in interest with Rem from the same series. In addition to spawning anime villagers, you can also don an armor set to resemble some pixelated anime characters as well. Some of our favorites include the knight from Goblin Slayer, and Tobi from the Akatsuki, from the Naruto series.
There are a decent amount of custom spawn eggs in this anime texture pack, and while some of them may immediately be recognizable, like being able to spawn a giant monster Anya from Spy X Family, there are some others that may be a bit more obscure to you. Feel free to check them all out, as the range of available spawn eggs here is pretty impressive. You'll love the anime mobs.
One staple feature of this texture pack is the infamous "ahegao" armor set, which as you might imagine, replaces the default armor set you get in the game with one that has been covered with beautiful anime girls making…let's just say, mildly suggestive facial expressions. It's pretty funny to see this waifu trend incorporated into Minecraft since it's one of the last places you would expect to find this sort of thing.
Adult content
This is probably a good time to let you know that if you intend to download this mod for a younger child, you might want to read this part. Some of these anime memes are a little more on the older and more mature side of things, however, there is nothing explicit like gore or nudity here. They mostly just are inside jokes about anime culture as a whole. As always, use your own judgment when it comes to downloading content from others, but generally speaking there's nothing seriously offensive in this texture pack.
Anime-themed food
As well as the things we just mentioned, there's also custom anime-themed food. You've got obvious consumable items like sushi and riceballs, but there are also more creative options such as the Sakuna Fingers, which fans of Jujutsu Kaisen will immediately recognize as an important plot device. Sadly eating these won't actually turn you into a super-powered demon, but it's still very cool that we have the option to even do this at all in Minecraft.
Anime music in Minecraft
Another one of the cooler parts of this cute anime texture pack that may go unnoticed by some is the fact that it's not all anime textures. You also get some really great anime songs that you can play on the record player in Minecraft as well. Sure, you can always just open up YouTube and play these on the side if you want to disable in-game music, but we are always in favor of Minecraft texture packs like these including sounds within the game. It just makes the whole experience more natural and integrated, and it brings even more value to the table when giving people reasons to download your pack.
As long as these mods remain free it is completely legally okay for creators to include anime music in this way since it's being used in such a transformative way that it doesn't infringe on the original copyright owner. And spoiler alert: these anime mods are pretty much always going to be free, at least when it comes to ones like these which inject Minecraft with tons of well-known and beloved characters that we are all familiar with.
Conclusion
Besides what we've mentioned, there are so many miscellaneous anime-related things within the best anime resource pack that we strongly recommend you check it out for yourself if any of this sounds interesting. It's just too much to go over in one article, and we're sure that there were tons of references that we didn't recognize since we haven't watched literally every anime ever produced. If you even have a casual or passing interest in anime culture, definitely download the anime Meme texture pack. "Anime is life", as some would say, so go ahead and make your Minecraft experience more "lifelike" today!
Anime Meme Pack is compatible with these Minecraft versions: 1.20.3 – 1.20.2 – 1.20.1 – 1.20 – 1.19.4 – 1.19.3 – 1.19.2 – 1.19.1 – 1.19 – 1.18.2 – 1.18 – 1.12.2 – 1.12 – 1.8.9 – 1.8
---
Video
&

Screenshots

ADVERTISEMENT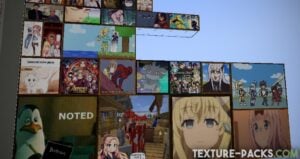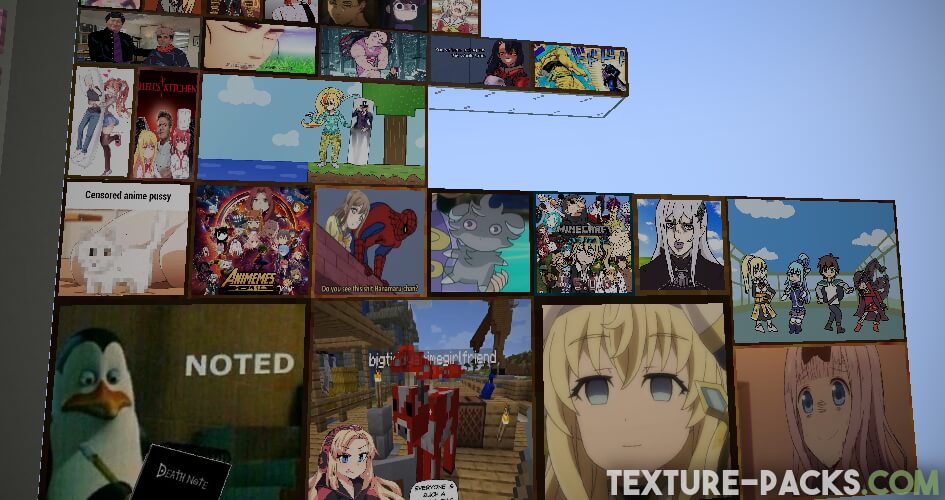 Please take a look at the screenshots of the anime texture pack. All paintings are in high-resolution, some tree leaves are pink and many items are anime-themed. If you want to play PVP with this pack, you should check out our comparison between Minecraft vanilla and the anime meme texture pack. It shows the waifu armor and the decorative head blocks.
Comparison
Use our comparison tool to compare the Minecraft default pack with the Anime Meme Pack.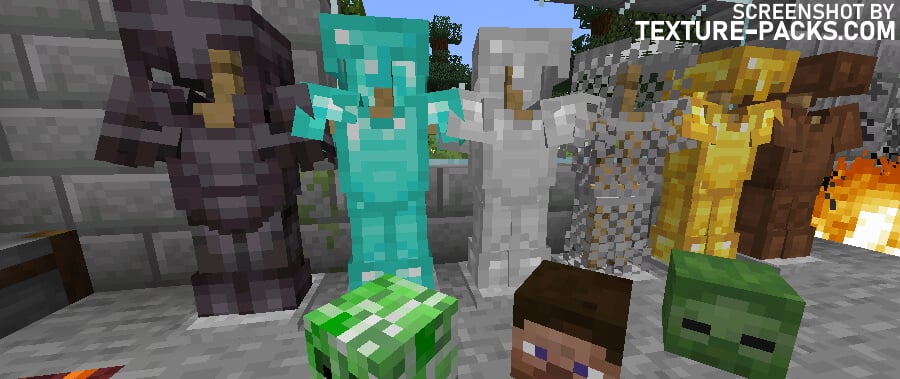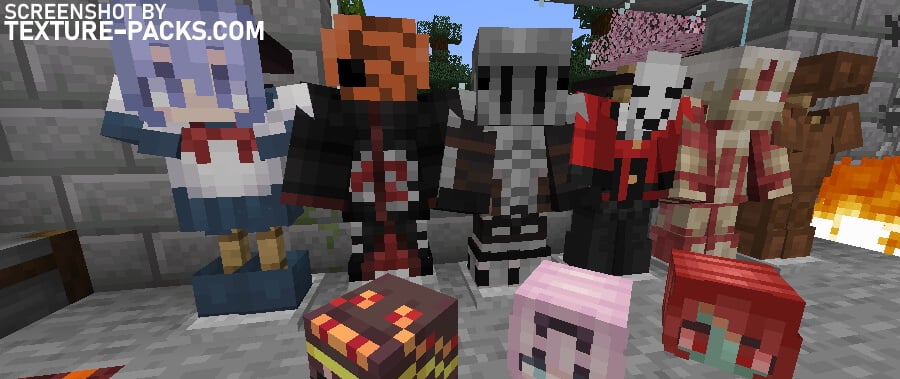 How to install the Anime Texture Pack
Check out the easy steps to install everything with just a few clicks.
To use all the cool features in this pack, download and install OptiFine.
Download the Anime texture pack for Minecraft from the file section below. Pick the file that matches your Minecraft edition and version.
Launch Minecraft.
Click "Options" on the main menu.
In the options, go to the submenu "Resource Packs".
Click "Open Pack Folder" at the bottom left to see a folder titled "resourcepacks".
Put the downloaded ZIP file into your "resourcepacks" folder. Or, just just drag and drop it into the Minecraft window to add the pack.
You will see the pack on the left side of the resource pack selection menu. Unzip the file if you can't see the pack.
Hover over the pack thumbnail and click the arrow pointing right.

If the game says the pack is for a newer or older Minecraft version when you activate it, don't worry! It's just a heads-up. Click 'Yes' and enjoy the new textures – it won't affect your gameplay.

Click "Done" and all assets have been loaded.
Anime Texture Pack Download
ADVERTISEMENT