You won't think so right away, but the Aluzion texture pack by Lootylinte is not only created for online combat. You can use it in other contexts as well, because the textures look like a cartoon. It is not a classic PvP pack. Nonetheless, a lot has been done to give you an advantage in multiplayer. Of course, no rules have been broken here and all optimizations are allowed on servers. This is also important because, for example, X-Ray is forbidden in multiplayer PvP modes. You can see from this example that not all enhancements are always allowed in Minecraft.
Overall, the goal is to improve grainy textures so that they no longer bother you in PvP modes. A main focus during the creation was on simplification. This means that many items and blocks have less detail, which makes the landscape more clear. Your environment looks nice anyway, which is due to the cartoon style that was mentioned. Furthermore, all ores in the Aluzion texture pack are outlined. Thanks to this, you can immediately see them even at a greater distance. Some PvP modes require extreme fast reactions, so the highlighted ores will definitely help you. Another change is that the swords have been shortened. This modification is partly for aesthetic reasons, but it's also to increase your field of vision. Opponents can come from any side in game modes such as Bedwars and SkyWars, so a perfect view is very important for you.
By the way, the developer is still very young and only works on this project in his spare time. Unfortunately, that's why updates don't come often. He also has to watch some anime series and read webtoons besides school, as he said himself. However, you should just be thankful to him for publishing something so great for free on the internet.
Aluzion is compatible with these Minecraft versions: 1.18.2 – 1.18.1 – 1.18 – 1.17.1 – 1.17 – 1.16.5 – 1.16 – 1.15.2 – 1.15 – 1.12.2 – 1.12 – 1.8.9 – 1.8
Screenshots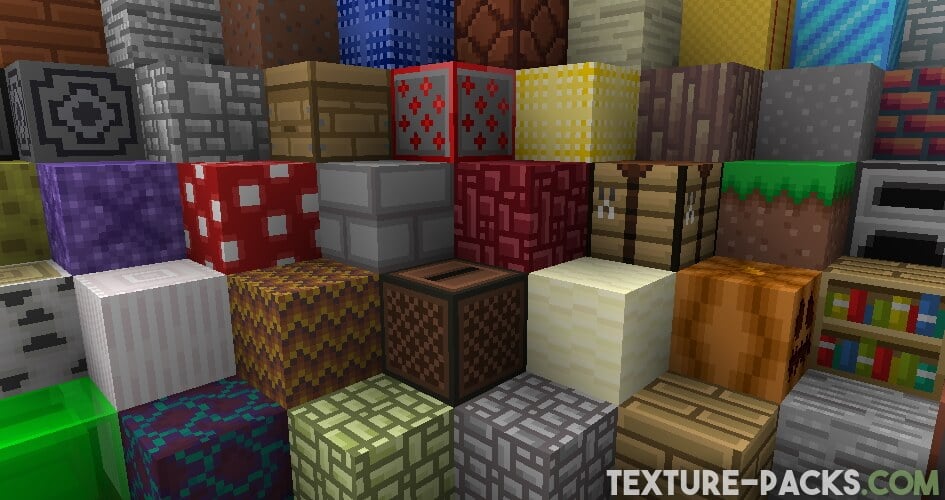 The resolution is, as you can see in the screenshots, not very high. The creator has nevertheless managed to make all textures less pixelated than you are used to. He did that by reducing the color contrasts. Moreover, the textures are more homogenous, even though completely different colors are used. Your Minecraft world looks more colorful as a result. You'll notice this most in the hotbar. It seems that the hearts and the hunger bar have really fallen into the color pot.
Aluzion Texture Pack Download
The Aluzion texture pack does not necessarily require Optifine. Because there are no additional features built into the pack that require this mod. Although, it can be helpful if you get low FPS in Minecraft. Combined with the simple textures, you'll definitely get very high FPS. Anyway, there is a download link for almost all popular game versions.
First of all, download Aluzion. You can find the latest version in our download section.
Then you start Minecraft. Depending on your preference with or without Optifine.
Click on "options" in the menu and then on "resource packs".
Now take the downloaded file and move it into the Minecraft window.
Minecraft will immediately ask you if you want to import Aluzion. Obviously, you should select "Yes" in the dialog box.
Hover your mouse cursor over the pack's icon and move it to the right side.
Click "done" and the installation is complete.
Blocks

PvP items

Shader compatibility

Popularity
Summary
All blocks, most of the mobs, items and some other things have been reworked. The Aluzion Pack is very comprehensive.