Our team has come up with some ideas how to celebrate with our community. The reason for this is the reaching of 50.000 subscribers on our YouTube channel. There we upload new texture packs, shaders and cool Minecraft add-ons almost daily. And basically there was only one way to celebrate this milestone. With the support of some helpers we created our first own Texture-Packs.com 50k texture pack and want to publish it here. The official download link can be found further down in the article.
Of course we know that some of our fans play both the Java Edition and the Bedrock Edition. As a result, you can download our 50k pack for both editions for free. Both versions are optimized for the latest Minecraft update. As a result, there is a lot for you to discover in your game world.
In detail, you can expect fresh and modern textures that will make your environment look completely different. But first of all, you should know that red is the most common color in our textures. This is because our design on our website and our YouTube channel has some shades of red. Also the diamond ore is red in color and so are all diamond items. By the way, the diamond ore is also animated. If you are in a cave looking for minerals, you will definitely not miss this ore. The next fact will please you if you are an avid pvp player. Not only the block already mentioned will be changed, but also the borders of all other ore blocks. In plain language this means that you have a huge advantage in game modes like SkyWars, UHC and Bedwars because you can clearly distinguish them from the normal stone.
The next big goal on our YouTube channel is to reach the 100,000 subscribers. Share our site with your friends if you like our work at this red edit!
The 50k pack is compatible with these Minecraft versions: 1.16.5 – 1.16.4 – 1.16.3 – 1.16.4 – 1.16.3 – 1.16.2 – 1.16.1 – 1.16 – 1.15.2 – 1.15.1 – 1.15
Screenshots & Video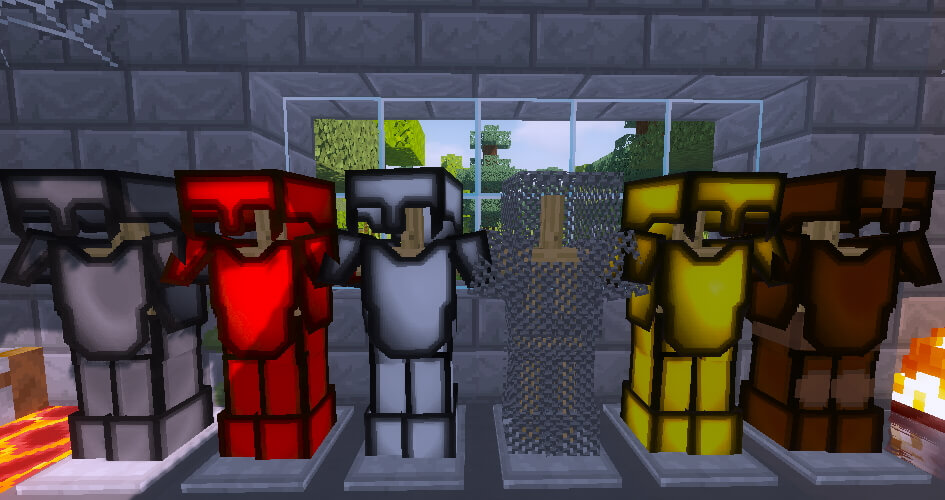 Now let's have a quick look at the Minecraft menu. Our Texture-Packs.com 50k texture pack is not a mod and therefore no additional options are added. Nevertheless you can see some differences. In the start menu for example the Minecraft logo is exchanged with our logo. Also the default color palette has been changed there, because now you see the different options in a much darker light. In general, all elements of the graphical user interface are similar to a real Minecraft dark mode. We did this during the creation process not without reason, because dark backgrounds are better for your eyes.
How to download and install our 50k texture pack
For MCPE the file name extension is .mcpack and therefore the import should work without problems. You might need some help for the installation on your PC, so here is a little guide for you.
First of all, we strongly recommend that you install Optifine so that you have access to all features. Only by using this mod you will be able to see all textures.
Then click on the official download link and in a few moments the file is downloaded.
Because the texture pack is for the latest version of the game you can easily move the .zip archive into the resource packs selection window.
If you did not understand this short guide, please have a look at the more detailed tutorial as well.
Details

Blocks

Items

Shader compatibility
Summary
All in all, the textures used are a colorful mix. On the one hand the blades of the swords have a resolution of 512×512, while some blocks have only a pixel resolution of 16×16 or 32×32. This mix is of course intentional, because it should make the Texture-Packs.com 50k Pack run without any lags or bugs.