Download Minecraft PE 1.20.20.23 Trails and Tales for Android with a working Xbox Live: Join the beta and preview by installing version 1.20.20.23 for Minecraft!
Minecraft 1.20.20.23 Beta
On July 26, 2023, Mojang released Minecraft PE 1.20.20.23 for Android devices as part of the eagerly awaited Trails and Tales Update. This release introduces a plethora of fixes and improvements, but no new features to the Minecraft Pocket Edition. By the way, in the same week, an update (1.20.13) for only iOS was released in the App Store.
Crash Fixes and Blaze Knockback Issues
One of the primary focuses of the Minecraft PE 1.20.20.23 update was to address several gameplay crashes that players had experienced in previous versions, like Minecraft PE 1.20.20.22. These crashes could disrupt gaming sessions, leading to frustration among the player community. With this update, Mojang and Microsoft aimed to improve the game's stability and ensure fewer lags and bugs.
Now, here's some good news for all you blaze hunters out there! Some Minecraft players had reported an issue with Blazes, where they would not get knocked back when hit and possessed extended invincibility frames. This was a critical problem, as Blazes are formidable foes, and not having their knockback effect was detrimental to the game's balance. With the release of version 1.20.20.23 for Minecraft PE, Mojang successfully resolved this problem, restoring the proper knockback mechanics for Blazes and providing players with more engaging combat and PvP experience. Problem solved!
But wait, there's more! For those of you who like to dig into the nitty-gritty of Minecraft, there's a handy bug report feature included. So if you encounter any issues or bugs while playing, you can easily report them, helping the Mojang developers make the Minecraft world even better. Furthermore, we value your feedback in the comments!
Feedback
Players have responded to the release of Minecraft PE 1.20.20.23. One user expressed gratitude for the fixes and hopes that the annoying crash issues affecting the Bedrock Edition, especially on PlayStation, will be resolved once the 1.20.20 update is released. Another player thanked Mojang for addressing the invisible Blaze bug in Minecraft, as it had been hindering their ability to build a Blaze spawner.
Please note that the comments mentioned above are from gamers who shared their opinions on the Minecraft PE update within our Minecraft Discord community.
Completion of Minecraft PE 1.20.20
The free Minecraft PE 1.20.20 update series has been highly anticipated among Minecraft fans, and this version marks a significant milestone in its development. With this release, it appears that the update is nearly complete, indicating that the full version might be ready for release soon. So check our website regularly to make sure you don't miss the free release of the full version.
Video
&

Screenshots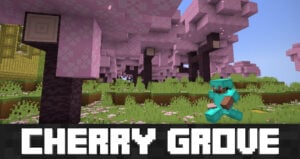 How to install Minecraft PE 1.20.20.23
Tap on the MCPE 1.20.20.23 download link to start downloading the APK file. The download may take a few moments depending on your internet speed.
After the installation is complete, you'll see a confirmation message stating that Minecraft PE 1.20.20.23 has been successfully installed on your device.
Now, you can open the app and start playing Minecraft PE 1.20.20.23 on your Android device.
Minecraft PE 1.20.20.23 Download