Nowadays, most Minecraft players play the Bedrock Edition. This is because it works smoothly on consoles, as well as on cell phones and tablets. In addition, cross-platform play is possible, which means that you can play with the whole gaming world. However, there is one major difference with the Java Edition, as most MCPE texture packs are only available through the official Minecraft Marketplace. This is especially annoying considering that the same packs are free on PC and you only have to spend money on them as an MCPE/Bedrock player. Also, this system poses another problem, because if you do decide to buy a pack with Minecoins, you might not like it after a short time. However, you cannot cancel your purchase. All these facts have led us to show you today the best way to convert Java Texture Packs to MCPE/Bedrock Edition. This way you'll have access to thousands of creations from the Minecraft community, you won't have to pay any money and you'll be able to test as much as you want.

We present you the "rtm516" website, which is super easy to use. Thanks to this site you have the possibilities to convert any resource pack in a few moments. All blocks, items and other textures from your uploaded pack will be converted into the format of Bedrock/MCPE texture packs.
How to convert any PC Pack
First of all, you need to find a Java Texture Pack. You can find a lot of them on our page, all of them are of high quality and sorted in different categories. You also need to make sure that the pack is compatible with your game version, so that as many textures as possible are transferred.

After the download is complete, go to the rtm516 Web App. At the bottom it says "Experimental conversions", which is the only available setting option. You can either turn this feature on or off. If you enable it, then the program will additionally try to convert all inventories and user interfaces to match the texture pack. Note, that this does not always work and glitches can occur.

Now you can convert the previously downloaded PC Pack into a Bedrock/MCPE Pack. If you are on a cell phone or tablet, click on one of the two green buttons and select the pack you want to convert. On the computer you can move the ZIP archive to the selection window. This will start the process and all textures will be converted into a .mcpack file. By the way, if you have chosen a pack with a high resolution, everything will take longer, because the file is much bigger.

4. If everything worked, the message "Conversion was successful" will appear in your browser. As soon as you click on "Safe" the download of the new .mcpack file starts. If you have a bad internet connection, the download may take some time.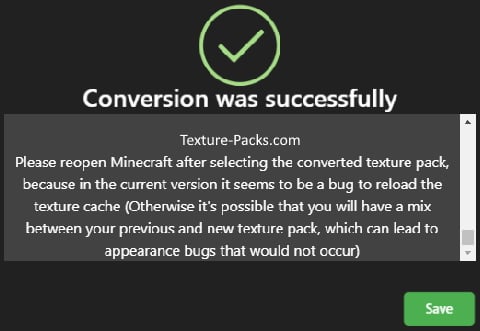 Double-click on the downloaded texture pack to install it. As a result, Minecraft will open and a message will appear that the import has started. Then go to "Settings", scroll down to "Global Resources" and check if the converted pack is displayed under "My Packs". Click on "Activate" and all resources will be loaded.
Finally, you should know that you can't expect the complete conversion to be perfect. However, you'll definitely like the result, since your environment will look completely new.
Can I convert Packs to PS4/Xbox One/Nintendo Switch?
Unfortunately, this method only works with the normal MCPE Edition for mobile devices, as well as with the Windows 10 Bedrock Edition. The reason for this is that you do not have the possibility to install texture packs from the Internet on game consoles. One solution would be to connect your phone or tablet to your TV with an HDMI cable so that you can play on a larger screen.