There is something in Minecraft that bothers many gamers. There is a clear lack of variety. Although you can only fundamentally change the environment with mods, there are also other ways. From now on, you can change the appearance of all zombies with Tissou's Zombie texture pack. It's only a small change, but it will help you make the game more varied. To be honest, that's an understatement, because this pack adds over 1000 new Minecraft textures. Accordingly, you should not speak of small.
You'll notice after a short time in your world that Tissou has designed the skins admirably well. Among them, there are men, women, former villagers, and so on and so forth. You'll feel like you're in "The Walking Dead" because the different faces are strongly reminiscent of a zombie apocalypse. So, you can train in Minecraft in case an apocalypse actually happens. You'll probably be better prepared than most of your friends.
In addition, Tissou's Zombie texture pack also brings new sounds to Minecraft. As a result, the hostile mobs sound completely different. Honestly, they are really scary now, because the sound pack makes the bloodsuckers more realistic. Nevertheless, at the end of the day, it's an add-on. Accordingly, it's best to find another resource pack that adds the missing textures.
You can also use another addon. The Fresh Animations texture pack is a clear choice here. This pack improves the appearance of all mobs and adds new animations. In combination, both packs are unbeatable.
By the way, there is a small challenge for our community. We challenge you to see two identical zombies at the same time and take a screenshot. No one has managed to do that, because there are really an incredible number of different zombie types. If you really managed to do it, then send us a proof picture. However, be careful when searching, because Minecraft zombies don't have good intentions and will hunt you down.
Tissou's Zombie Pack is compatible with these Minecraft versions: 1.19.4 – 1.19.3 – 1.19.2 – 1.19.1 – 1.19 – 1.18.2 – 1.18.1 – 1.18 – 1.17.1 – 1.17 – 1.16.5 – 1.16 – 1.15.2 – 1.15 – 1.14.4 – 1.14 – 1.13.2 – 1.13 – 1.12.2 – 1.12 – 1.7.10 – 1.7
Screenshots & Video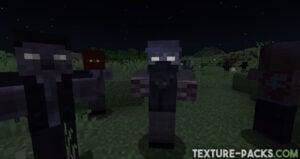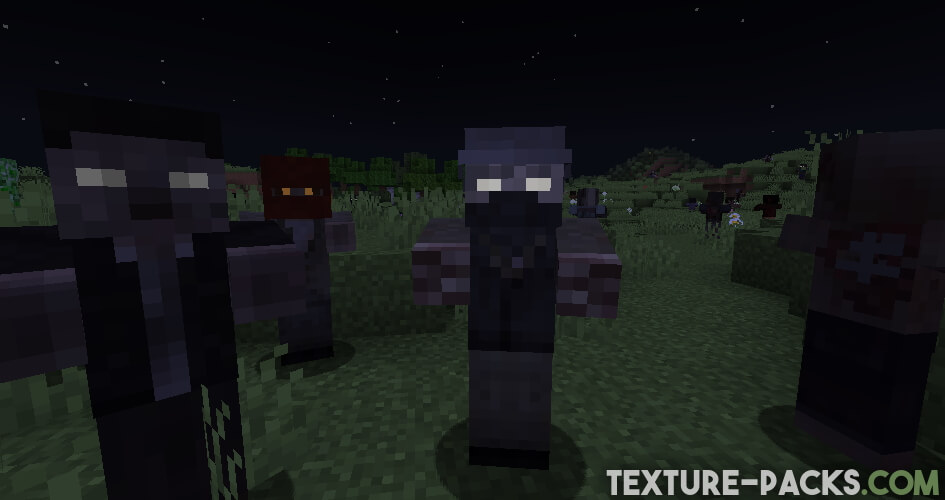 How to install Tissou's Zombie Texture Pack
First of all, you need to install Optifine. Otherwise, the pack and the shiny eyes will not work.
Now click on Tissou's Zombie texture pack download link.
Start Minecraft and click on "options" in the menu.
You can see that Optifine has some new settings options. However, this is not important right now, because you need to click on "resource packs" on the left side.
Move the texture pack into the Minecraft window and the game will ask you if you want to import the file. Logically, you have to answer yes to this question.
Finally, move it to the right in Minecraft so that the new textures are loaded. You must always have the pack at the top of your resource packs list if you want to use the zombies as an add-on.
Tissou's Zombie Texture Pack Download
| | | | |
| --- | --- | --- | --- |
| Progress: | Resolution: | Operating systems: | File size: |
| 100% complete | 16x | Windows, Android, iOS, macOS, Linux | 11.59 MB |
Mobs

Popularity

Originality
Summary
Tissou's Zombie texture pack is definitely not a classic pack like any other. That's for sure. In the future, there will be even more new zombie textures, which will surely please many. Tissou doesn't change the entire landscape, but he improves Minecraft in his very own way. All in all, the project is a great thing and the download numbers are still skyrocketing.