Zombies are one of the most iconic enemies in Minecraft, and they have been present in the game since its earliest days. In Minecraft, zombies are hostile mobs that can spawn in most biomes, especially at night and in dark places like caves. The first appearance of zombies in Minecraft was in 2009. At the time, zombies were relatively simple creatures that would simply follow the player and attack them on sight. Over time, zombies have been given more complexity and behavior patterns, such as the ability to break down doors and the tendency to seek out and attack villagers.
Zombies in Minecraft have also become a popular subject for texture pack creators, who create custom textures and skins for the game's various mobs. Many gamers are bothered by the lack of variety in Minecraft. While mods can fundamentally change the environment, there are also other ways to add variety. Tissou's Zombie texture pack replaces the default zombie skins with something more gruesome and adds emissive eyes to the game's zombie-related mobs, like zombie villagers, husks, drowned, and baby zombies. Overall, over 1000 new textures are added. The variety of different faces strongly resembles a zombie apocalypse, giving you the feeling of being in "The Walking Dead." With this pack, you can even train for a potential apocalypse in Minecraft and be better prepared than most of your friends.
Additionally, Tissou's Zombie texture pack also adds new sounds to Minecraft, making the hostile mobs sound even more terrifyingly realistic. However, it's still just an add-on, and you'll need to find another resource pack that adds the missing textures. We recommend Fresh Animations, which improves the appearance of all mobs and adds new animations. Both packs are unbeatable together.
As a small challenge for our community, we challenge you to see two identical zombies at the same time and take a screenshot. So far, no one has managed to do that because of the incredible number of different zombie types. If you do manage to do it, please send us a proof picture. However, be careful when searching, as Minecraft zombies don't have good intentions and will hunt you down.
Tissou's Zombie Pack is compatible with these Minecraft versions: 1.20.3 – 1.20.2 – 1.20.1 – 1.20 – 1.19.4 – 1.19.3 – 1.19.2 – 1.19.1 – 1.19 – 1.18.2 – 1.18.1 – 1.18 – 1.17.1 – 1.17 – 1.16.5 – 1.16 – 1.15.2 – 1.15 – 1.14.4 – 1.14 – 1.13.2 – 1.13 – 1.12.2 – 1.12 – 1.7.10 – 1.7
---
Video
&

Screenshots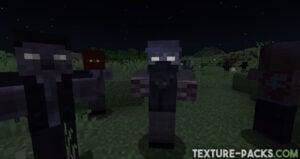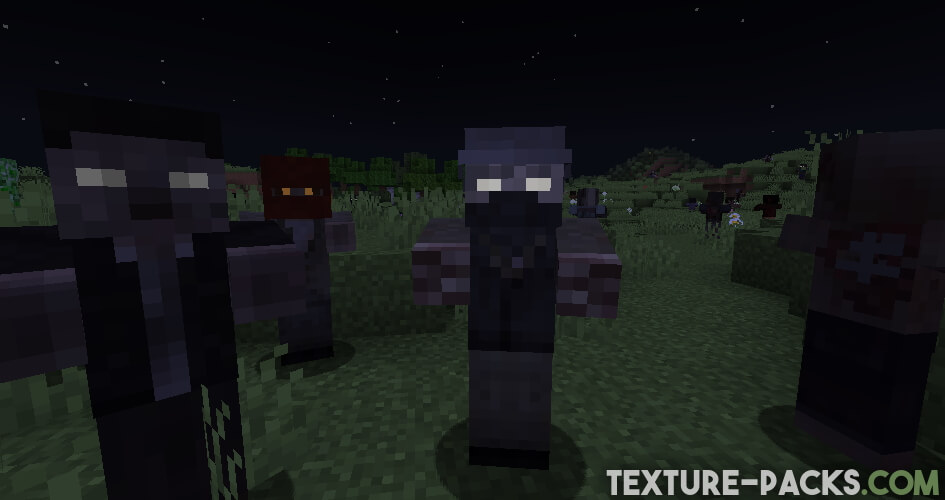 Comparison
Use our comparison tool to compare the Minecraft default pack with Tissou's Zombie Pack.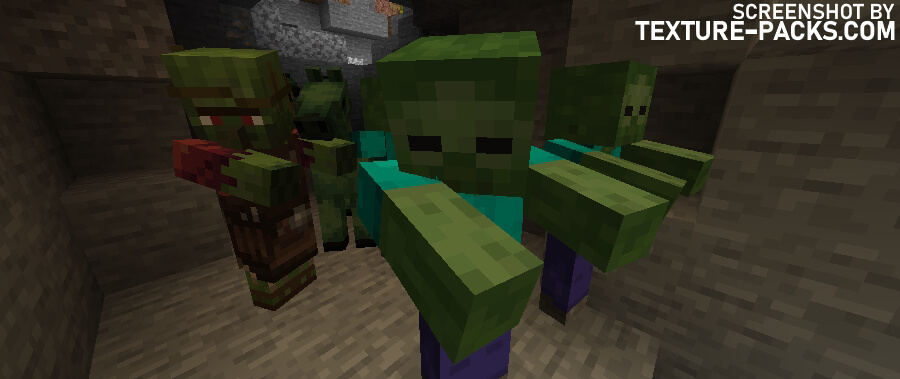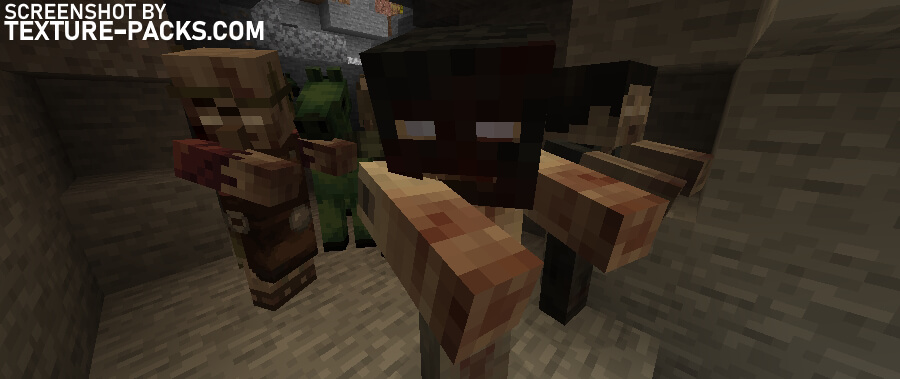 How to install Tissou's Zombie Texture Pack
First of all, you need to install OptiFine. Otherwise, the pack and the shiny eyes will not work.
Now click on Tissou's Zombie texture pack download link.
Start Minecraft and click on "options" in the menu.
You can see that Optifine has some new settings options. However, this is not important right now, because you need to click on "resource packs" on the left side.
Move the texture pack into the Minecraft window and the game will ask you if you want to import the file. Logically, you have to answer yes to this question.
Finally, move it to the right in Minecraft so that the new textures are loaded. You must always have the pack at the top of your resource packs list if you want to use the zombies as an add-on. If the file is not at the top, invisible zombies, skin bugs, and other errors may occur.
The game may tell you during the installation that the pack was made for a newer or older Minecraft version. This is an error and you can still activate the pack. If the pack does not work, you have most likely forgotten to install OptiFine.
Tissou's Zombie Texture Pack Download
Mobs

Popularity

Originality
Summary
Tissou's Zombie texture pack is definitely not a classic pack like any other. That's for sure. In the future, there will be even more new zombie textures, which will surely please many. Tissou doesn't change the entire landscape, but he improves Minecraft in his very own way. All in all, the project is a great thing and the download numbers are still skyrocketing.