This project offers two different resolutions to choose from: the standard Monsterley pack with a 32x resolution, and Monsterley HD Universal with an impressive 128x resolution. Both versions are packed with a plethora of features that are stunning. By the way, the creator McMonaLisa is from Germany, and his Monsterley texture pack has gained a loyal following among Minecraft players worldwide.
One of the standout features is the extensive collection of alternative textures for plants and other blocks. With random alternative textures, you'll see a fresh and diverse visual environment every time you walk through your Minecraft world. The pack also offers a variety of flowers and lily pads, complete with blossoms, adding a touch of natural beauty to your world.
But it doesn't stop there. The Monsterley texture pack also includes rotating ground block textures for grass, dirt, and snow, adding depth and realism to your Minecraft landscapes. The lightmap feature takes into account the characteristics of every biome, creating dynamic lighting that makes the gameplay more vibrant. The trees' foliage is also uniquely textured, further enhancing the aesthetics of your Minecraft world. As a fun Easter egg, Monsterley includes a rare sighting of a blue cow when the random feature in OptiFine is enabled. This adds a touch of surprise.
In addition to these visual enhancements, the Monsterley resource pack also offers a range of 3D blocks, including rail systems, furnaces, ladders, and more, which add a realistic touch to your gameplay. The pack also includes better animations, new random alternative peaceful mobs (OptiFine required), and a custom sky feature (OptiFine required), allowing you to personalize Minecraft like never before. Check out all OptiFine texture packs, if you like these features.
Another unique aspect of the pack is its attention to small things. The clearly structured GUI ensures good legibility, making it easy to navigate menus and settings. New HD paintings, connected glass, and glowstone presented as glowing stone in the nether but as a lamp in the overworld (OptiFine required) make Minecraft even better. The pack also includes an HD font, bump mapping, and parallax occlusion mapping shader support for a more realistic look, giving some textures more depth, but the final look depends on the selected shader. We recommend the SEUS shaders.
Monsterley is compatible with these Minecraft versions: 1.16.5 – 1.16 – 1.15.2 – 1.15 – 1.14.4 – 1.14 – 1.13.2 – 1.13 – 1.12.2 – 1.12 – 1.11.2 – 1.11 – 1.10.2 – 1.10 – 1.9.4 – 1.9
---
Art
Font
Misc
Environment
Particles
Terrain
Video
&

Screenshots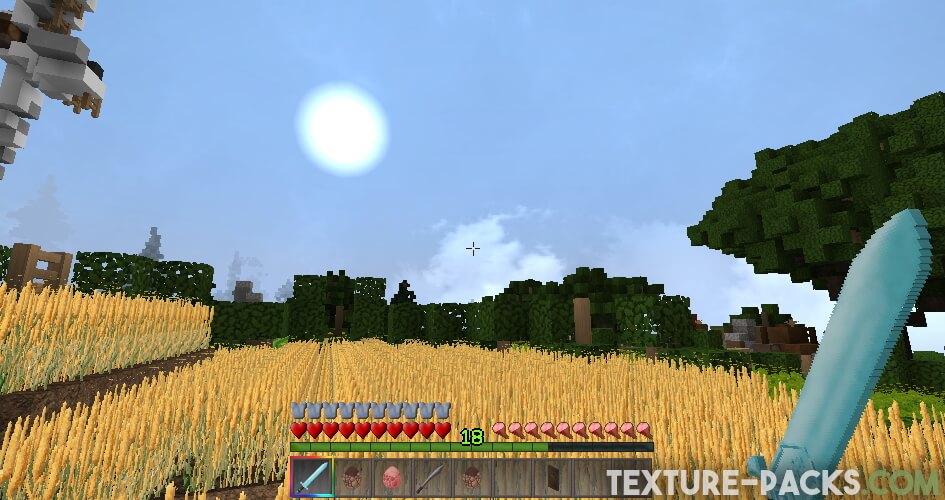 Comparison
Use our comparison tool to compare the Minecraft default pack with Monsterley.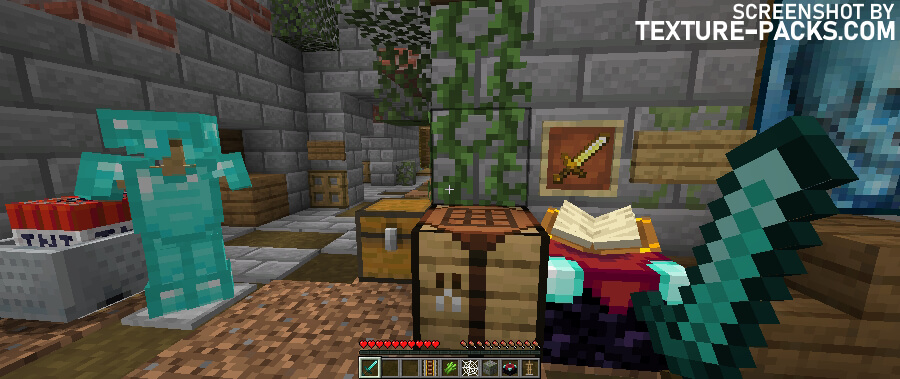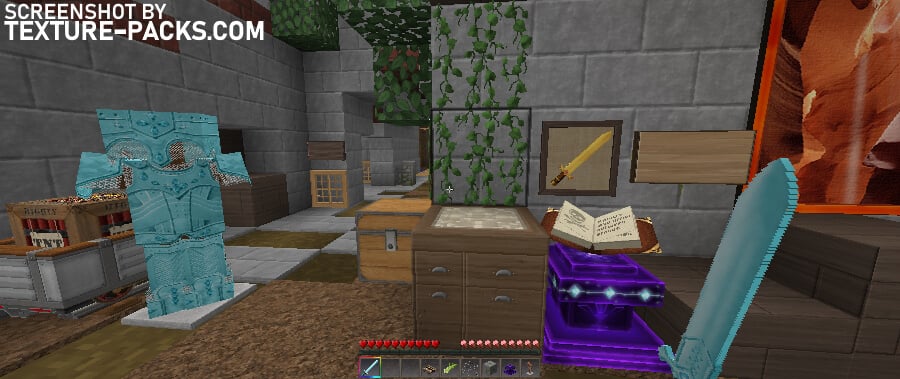 How to install the Monsterley Texture Pack
Download and install OptiFine.
Click on the texture pack download link that is compatible with your game version and Minecraft edition.
Launch Minecraft.
Click on "Options" in the main menu.
In the options menu, go to the submenu "Resource Packs".
Click on "Open Pack Folder" at the bottom left.
Move the downloaded ZIP file into your resourcepacks folder.
You will see the pack on the left half of the resource pack screen. If it is not displayed in Minecraft, you need to unzip the file.
Move the cursor to the pack logo and click the arrow pointing to the right.
Click on "Done".
The game may tell you during the installation that the pack was made for a newer or older Minecraft version. This is an error and you can still activate the pack.
Monsterley Texture Pack Download
Blocks

Items

Shader compatibility