ADVERTISEMENT
You'll get to know the Monsterley Texture Pack (HD Universal) as a high-resolution semi-realistic Minecraft texture pack. You're sure to feel at home right away because the color are the same as standard Minecraft. As a result, your created buildings will continue to look beautiful even though the Monsterley Texture Pack is activated. One of the distinctive features of Monsterley HD is the detailed display of blocks.
Above all, you will have a positive memory of the flora and fauna, because there will be a lot of alternative textures for flowers, plants or water lilies. Thanks to the vivid and bright color, Minecraft Biomes have more individual characteristics.
Creator of the Monsterley HD Universal Texture Pack is McMonaLisa and he has been working on his pack since Minecraft version 1.10. Theoretically, this Texture Pack can be seen as a realistic extension for your game thanks to its 128x resolution, but it still has a lot of a cool cartoon character. In case you have a rather bad computer, you can also download Monsterley 32x. Logically the resolution is lower here.
Monsterley Nether Update – What's new in Minecraft 1.16.5?
One of the first things you will do in Minecraft version 1.16.5 is to check out the new Nether update as soon as possible. To do this, you will need to go to the Minecraft Underworld and there are some new blocks and items waiting for you. I personally remember the new Warped Forest in particular, because the added wood blocks look really nice in the Monsterley Nether Update. But you'd better watch out, because some Piglins and Piglin Brutes will also appear!
Monsterley is compatible with these Minecraft versions: 1.16.5 – 1.16 – 1.15.2 – 1.15 – 1.14.4 – 1.14 – 1.13.2 – 1.13 – 1.12.2 – 1.12 – 1.11.2 – 1.11 – 1.10.2 – 1.10 – 1.9.4 – 1.9
Screenshots & Video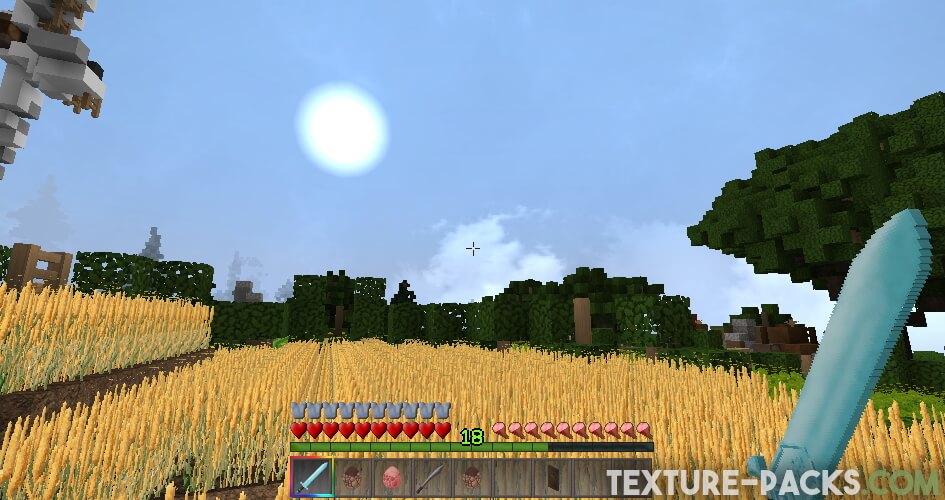 Monsterley Texture Pack Download
The first thing you should consider is whether your computer is powerful or rather weaker. Depending on how you decide, download Monsterley HD Universal or Monsterley 32x. Then wait a short time and when the download is complete, move the downloaded file to your desktop.
Now it comes for you to the correct installation of the Monsterley Texture Pack. If you have not yet started Minecraft, you should do so now. Once you are in the main menu, click on Options, then Resource Packs and you will be taken to the Minecraft Resource Pack selection. At the bottom left you will find a button to open your pack directory. Into this location you move the Monsterley Texture Pack and close this folder again. Close the game and restart Minecraft. This will update all data and you can easily activate Monsterley Texture Pack. This concludes the quick and easy installation guide.
Blocks

Items

Shader compatibility
Summary
The Monsterley Texture Pack (HD Universal) is a semi-realistic resource pack for Minecraft Nether Update. Updated blocks and items await you!