ADVERTISEMENT
The best way to describe the Jicklus texture pack is with these three words: medieval, rustic, and classic. This will give you a first preview of what you can expect. By the way, this project came about because the creator combined his two packs Jicklus Green and Orange into one big texture pack. This was definitely not a bad idea, because by now it is very popular in the Minecraft community and has several hundred thousand downloads.
These are classic textures, as you could already read at the beginning. However, that doesn't mean anything bad at all, because your buildings will look fantastic. You won't find any super modern blocks, but there are still some highlights. Further below are gameplay screenshots.
The Jicklus texture pack manages to stay true to the normal Minecraft graphics due to the comparatively low resolution. Nevertheless, it is no ordinary Faithful edit, because the blocks and items have a unique style. You'll quickly notice that some details can still be seen on the simple textures. Also, it should be positively pointed out that everything is 100% complete. This is very important because few people want to use an incomplete texture pack. Accordingly, there are enhancements everywhere. Be it the GUI, the weapons, or the font. Everything has been completely reworked.
In addition, there are some add-ons for Jicklus that add even more new things. The add-ons can be divided into two groups. First, there are the "official" add-ons and second, there are some fans who also publish new textures. You can download the fan creations via the Jicklus discord. This gives you the possibility to compile all textures according to your preferences.
The most popular are these add-ons:
"Golden Birch" Addon: This pack adds golden birch leaves.
"Orange Autumn" Addon: This pack will give your Minecraft world an autumnal look.
"Pretty In Pink" Addon: It adds some pink textures. For example, there are blossom birch tree leaves and a blossom-covered crafting table.
Jicklus is compatible with these Minecraft versions: 1.19.3 – 1.19.2 – 1.19.1 – 1.19 – 1.18.2 – 1.18.1 – 1.18 – 1.17.1 – 1.17 – 1.16.5 – 1.16 – 1.15.2 – 1.15 – 1.14.4 – 1.14
Screenshots & Video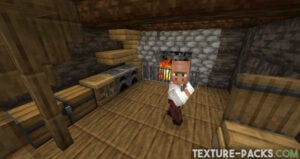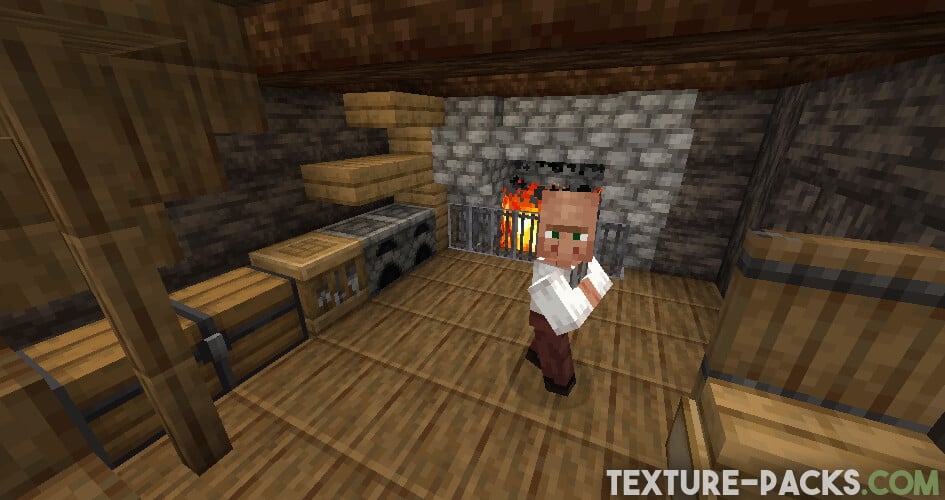 How to install Jicklus Texture Pack
Furthermore, there are a few tips for the correct use. The author recommends using the Jicklus texture pack together with Optifine. He advises this because it gives the mobs random textures. As a result, you will never see two zombies with the same look next to each other and your environment will be more varied. Besides, he recommends Sildur's Shaders, because according to him, it will bring Minecraft to life. The screenshots were taken without a shader.
First of all, click on the Jicklus texture pack download. The download will start immediately. The file size is about 10 MB, so you don't have to worry about your disk space.
Now start Minecraft and wait until your computer has loaded everything.
Then click on resource packs in the options and open your pack folder.
Move the downloaded Jicklus file into this folder and the installation is done.
You can install the addons with the same procedure. The only important thing is that the main pack is at the bottom and the addons are above it.
Jicklus Texture Pack Download
| | | | |
| --- | --- | --- | --- |
| Progress: | Resolution: | Operating systems: | File size: |
| 100% complete | 16x | Windows, macOS, Linux | 8.70 MB |
Where can I download the Jicklus texture pack for MCPE, Minecraft PE, and Bedrock Edition?
Jicklus is available in the Minecraft Marketplace and you can buy the pack there for 830 Minecoins. This allows you to play with it on all Bedrock platforms.
Jicklus Update Logs
Jicklus.zip
- Reimagining of lead item icon
- Reimagining of lead knot
- Edits to lever
- Reimagining of cobblestone
- Reimagining of mossy cobblestone
- Edits to painting
- Edits to chiseled quartz block
- Edits to bread item icon
- More stages to carrot growth
- Edits to sugarcane
- Fix to chests
- Reimagining of pumpkin and melon growth stages
- Reimagining of azure bluet
Blocks

Items

Mobs

Completeness

Popularity
Summary
Here and there you will discover a few unusual designs. But this is fully intentional, because Jicklus is supposed to be unique, so that playing Minecraft is still fun. There are fans all over the world who use this traditional texture pack every day.