ADVERTISEMENT
Due to the amazing 512×512 resolution the Fancy Texture Pack became very popular right after its release. Sometimes you have to look really close to see every single detail. Another reason for the popularity is the extreme realism in this Minecraft Resource Pack. Ultimately, you don't have to be afraid of the high resolution, because the basic gameplay remains the same. By the way, the pack is a re-creation of an older version, which was not so extensive.
Fancy is one of the few 512x Texture Packs that are actually very high quality. You may find this resolution a bit over the top, but it sets a whole new standard in the Minecraft Nether update. This includes blocks that look much more real and authentic. Unlike Default Packs, the Fancy Texture Pack transforms Minecraft into a great visual experience. Of course you can still recognize important blocks like ancient debris or diamonds, but these textures look much better now.
Fancy Bedrock
In the Minecraft Bedrock Edition Fancy is available in a 128x resolution. To avoid any problems, the resolution in Minecraft PE is slightly lower. As a mobile player you will like the game even more after installation. Your buildings will be displayed even cooler and it doesn't matter if you are an iOS, Android or Windows 10 player. Fancy Bedrock combines everything a good add-on for MCPE needs.
Fancy is compatible with these Minecraft versions: 1.18.2 – 1.18.1 – 1.18 – 1.17.1 – 1.17 – 1.16.5 – 1.16 – 1.15.2 – 1.15 – 1.14.4 – 1.14 – 1.13.2 – 1.13 – 1.12.2 – 1.12
Screenshots & Video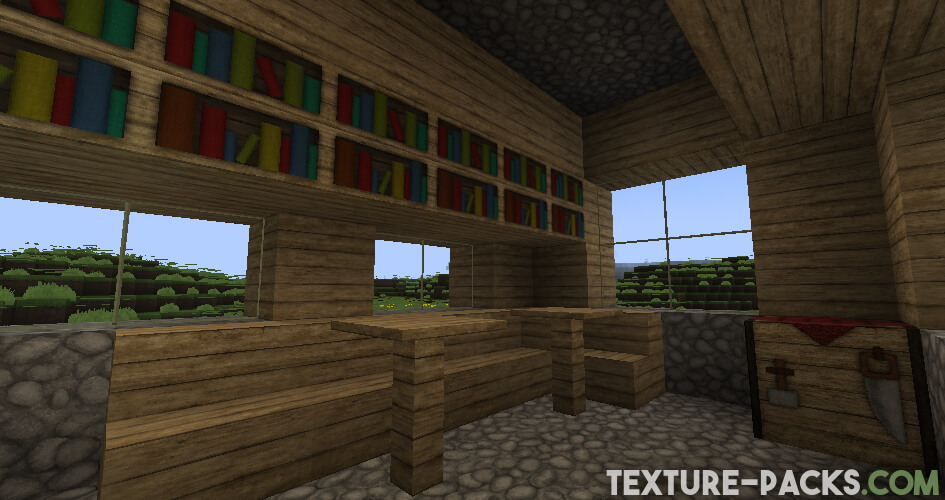 Fancy Texture Pack Download
The first step is the obligatory download of OptiFine HD. This mod gives you completely new possibilities of settings in Minecraft. We definitely recommend the download, because the Fancy Texture Pack looks even more realistic. Afterwards you can download the Texture Pack in our download area. Now start the Minecraft Launcher and wait a short time until the game is loaded. In the menu click on "Options", then on "Resource Packs" and finally on "Open Folder". Into this folder you move the file you downloaded before. Now you know how to install the Fancy Resource Pack.
Blocks

Items

Shader compatibility
Summary
Make the game even more realistic and beautiful with Minecraft Fancy Texture Pack. You should definitely try the 512x resolution.