ADVERTISEMENT
We have all been affected by this huge pandemic and it doesn't even stop at Minecraft. To call a spade a spade, it's a Corona Texture Pack that adds special add-ons. Most of the mobs wear a facemask that looks like a real one. Creepers can't infect you with this, but they probably won't stick to the distance control…
By no means do we or the creator want to make fun of or belittle the topic. In fact, you should consider the Corona Texture Pack to be a fun or bizarre extension. As soon as Minecraft is started, you will see the first change in the menu, because among other things the new title "Covid Edition" is displayed instead of "Java Edition". Also the Bottle o' Enchanting are disinfectant and every time you use this item, your hands are virtually disinfected. In addition to items such as toilet paper rolls or cans, there are many other changes waiting for you to discover them.
There are also masks which can be put on by yourself and which reflect the respective helmet of your armour. To give you a better overview, we will now list the best stuff here:
Mobs with masks
Wearable masks (helmets)
Wearable gloves (chestplates)
Hazmat suit (golden armor) by Codename Blue
Corona themed items and paintings
Enderdragon is spitting on you (retextured fireball)
Animals get a "infectet" particle when you breed them (retextured heart particle)
Corona themed splashes on titlescreen
Corona themed Background
The Corona pack is compatible with these Minecraft versions: 1.16.5 – 1.16 – 1.15.2 – 1.15
Screenshots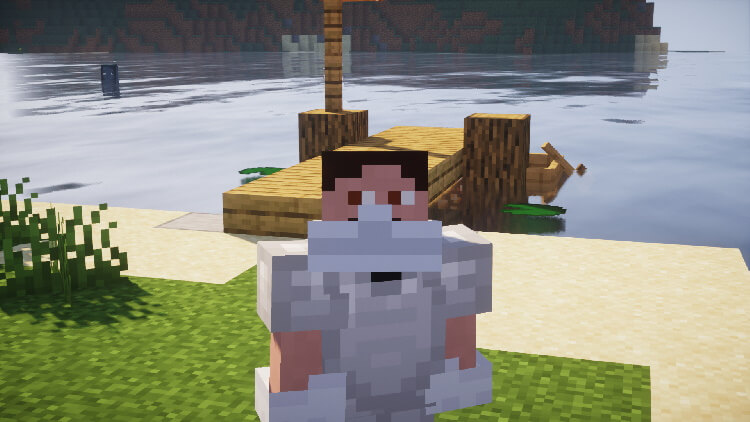 Corona Texture Pack Download
Install OptiFine if you want to use the pack with all features.
Click on the texture pack download link that is compatible with your game version and Minecraft edition.
Launch Minecraft.
Click on "Options" in the main menu.
In the options menu, go to the submenu "Resource Packs".
Click on "Open Pack Folder" at the bottom left.
Move the downloaded ZIP file into your resourcepacks folder.
You will see the pack on the left half of the resource pack screen. If it is not displayed in Minecraft, you need to unzip the file.
Move the cursor to the pack logo and click the arrow pointing to the right.
Click on "Done".
The game may tell you during the installation that the pack was made for a newer or older Minecraft version. This is an error and you can still activate the pack.
❓ What does the Corona Texture Pack change in the game?
After the installation, mobs will wear a face mask, you will have funny items and much more.
📜 For which Minecraft versions is the Corona Pack available?
Currently the Corona Pack is only available for Minecraft version 1.15 and 1.16.
💻 What resolution do the textures have?
The resolution of the blocks and objects is 16x and therefore rather low.
Blocks

Items

Shader compatibility
Summary
Minecraft now includes the Corona Texture Pack with face masks, gloves, disinfectants and much more.