Minecraft dogs, also known as wolves, have been a part of the game since its early days. They were added in the Beta 1.4 update in 2011, along with other mobs such as sheep and spiders. Initially, wolves in Minecraft were hostile creatures that would attack players on sight. However, in a later update, they were changed to become tameable by feeding them bones. Once tamed, they would become loyal companions that would follow the player, defend them from hostile mobs, and even help them hunt. In terms of appearance, wolves in Minecraft were originally gray in color. However, in later updates, players were able to find and tame wolves with different fur colors, such as black, white, and brown. Many players have developed a special bond with their Minecraft wolves and dogs, often giving them nicknames and treating them as virtual pets.
Dogs are easier to tame than cats, but over time, it can become boring when there is only little variation in their appearance. This has led to the development of various mods and texture packs that enhance the dog's appearance and behavior in the game. This is where the Better Dogs texture pack for Minecraft comes in, which offers a feature-rich solution to this problem. As the name suggests, the project only changes the appearance of the puppies and not their behavior. It was created by Mrblueyeti and is designed to add new dog breeds with over 125 textures. It's a great addition for players who want to add more animals to their Minecraft world. To enhance the gaming experience, it is recommended to combine the Better Dogs texture pack with other resource packs that offer additional textures.
One of the most impressive features of the Better Dogs resource pack is that it allows you to download standalone versions of each of the dog breeds included in the pack. These separate versions have much less of an impact on your FPS (frames per second), making them an excellent option for players who want to use the mod but have a cheap gaming setup.
Another advantage of Better Dogs is the variety of dog breeds that it adds to Minecraft. With over 40 new breeds available, players can choose their favorite and have their in-game companion match their real-life pet. Some of the popular breeds included in the mod are Border Collie, Dalmatian, Doberman, German Shepherd, Husky, Labrador, and many more. Additionally, the vanilla-like textures used for each breed are detailed and realistic, which helps to make the dogs look even more like their real-life counterparts.
If you like this pack, you'll probably also have fun with the Animal texture pack, which changes the appearance of some mobs and keeps the vanilla feel.
Better Dogs is compatible with these Minecraft versions: 1.20.3 – 1.20.2 – 1.20.1 – 1.20 – 1.19.4 – 1.19.3 – 1.19.2 – 1.19.1 – 1.19 – 1.18.2 – 1.18 – 1.17.1 – 1.17 – 1.16.5 – 1.16 – 1.15.2 – 1.15 – 1.14.4 – 1.14 – 1.13.2 – 1.13 – 1.12.2 – 1.12 – 1.11.2 – 1.11 – 1.10.2 – 1.10 – 1.9.4 – 1.9 – 1.8.9 – 1.8
---
Video
&

Screenshots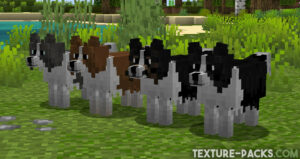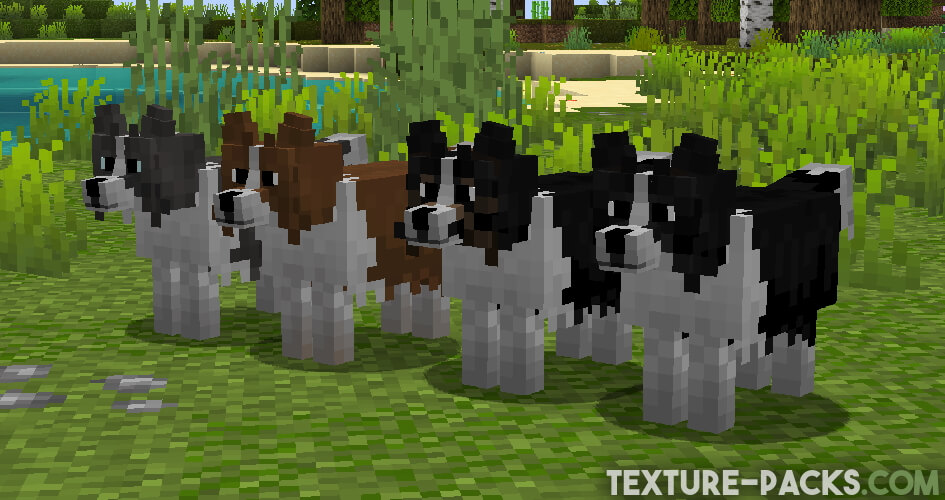 How to install the Better Dogs Texture Pack
Better Dogs requires either OptiFine or Fabric with specific mods to work correctly. This requirement may be a bit of a hurdle for some players who are unfamiliar with modding, but it is well worth the effort.
Download and install OptiFine. This mod is only available for the Minecraft PC version, so all Bedrock players will be left empty-handed.
Start Minecraft with OptiFine and go to the options, then to video settings, and click on quality. There you have to enable random entities and custom entity models. This is the most important step and you should make sure that you have done everything right. If you don't enable these settings, models will look like strings.
Download the Better Dogs texture pack in our download section. The file size is very small because the textures have only a 16×16 resolution.
Now go to the options screen again and go to resource packs. Click on "open pack folder" and move the downloaded Better Dogs texture pack into this folder.
It often happens that Minecraft asks you if you really want to load Better Dogs. The game mistakenly thinks that the pack was made for an older or newer version of the game. This is not true, so you can click "Yes" and import the file without any worries. This step is a stumbling block for many players because they are afraid of doing something wrong.
You will see the pack on the left half of the resource pack screen. If it is not displayed in Minecraft, you need to unzip the file.
Move the cursor to the pack logo and click the arrow pointing to the right.
Put Better Dogs on the top of the active resource pack list. This makes other packs compatible with the new dog textures.
Click on "Done".
It is essential to note that Better Dogs does not work with the mods Xaeros Minimap, Revamed Wolf, and Doggy Talents. However, there are many other mods available that are compatible with Better Dogs, and you should not have any trouble finding other mods that are compatible with this pack.
How it works
When you tame a wolf, it will transform into a unique dog breed. With the use of name tags, you can spawn a specific type of dog and give your furry companion a personalized name. Simply select a name tag from the list of supported tags below to get the dog breed you want.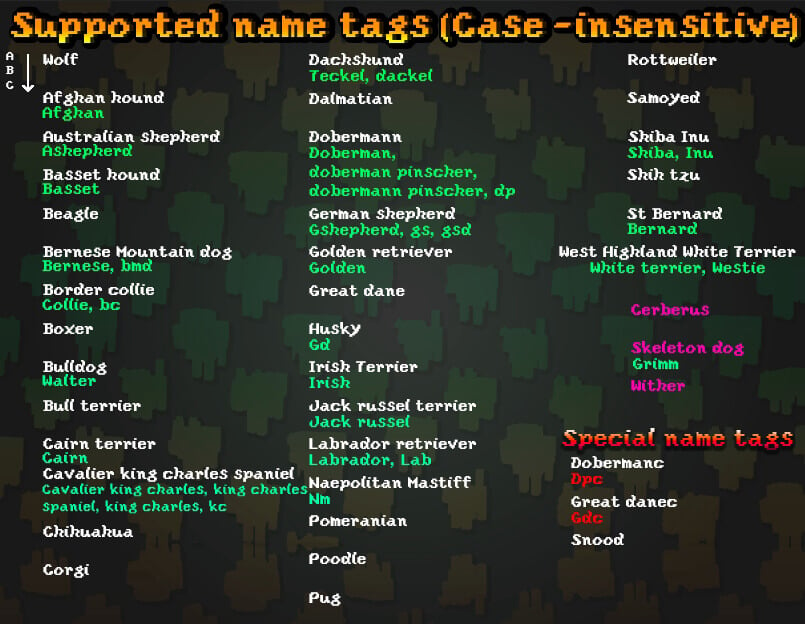 Better Dogs Texture Pack Download