ADVERTISEMENT
The dog is also man's best friend in Minecraft and not only in real life. Compared to the cat, it is also much easier to tame a dog in the game. However, it gets a bit boring over time when there is little variation in the animal's appearance. That's why the very feature-rich Better Dogs texture pack for Minecraft was created. The name says it all because nothing is changed except the cute four-legged friends. It's best to combine it with other resource packs that include all other textures to make your gaming experience even more interesting.
The Better Dogs texture pack is the perfect add-on for all animal lovers. You'll see some popular dog breeds in Minecraft. You'll first have to tame a wolf, and then it will turn into a dog with a random appearance. You may want to have a specific breed. If so, you'll need a name tag with one of the following breed names:
• Wolf (5 varieties)
• Australian shepherd (3 varieties)
• Beagle (3 varieties)
• Bernese mountain dog (1 variation)
• Border collie (4 varieties)
• Boxer (3 varieties)
• Bull terrier (2 varieties)
• Cairn terrier (3 varieties)
• Cavalier King Charles Spaniel (4 varieties)
• Cerberus (3 varieties) (only in nether)
• Chihuahua (3 varieties)
• Corgi (4 varieties)
• Dachshund (2 varieties)
• Dalmatian (3 varieties)
• Doberman (2 varieties and 2 special varieties trough name tags)
• English bulldog (2 varieties)
• German shepherd (4 varieties)
• Golden retriever (2 varieties)
• Great Dane (3 varieties and 3 special varieties through name tags)
• Husky (4 varieties)
• Jack Russel (3 varieties)
• Labrador retriever (5 varieties)
• Neapolitan Mastiff (4 varieties)
• Poodle (5 varieties)
• Pug (2 varieties)
• Rottweiler (2 varieties)
• Samoyed (1 variation)
• Shiba Inu (3 varieties)
• Skeleton dog (3 varieties) (only in nether)
• St. Bernard (2 varieties)
• West Highland White Terrier (2 varieties)
• Wither skeleton dog (3 varieties) (only in nether)
By the way, most often players choose a Labrador, Dalmatian, or Jack Russell Terrier. Furthermore, you should know that only the appearance changes and not the behavior. But that doesn't matter, because more than 30 breeds of dogs offer a lot of aesthetic features.
Better Dogs is compatible with these Minecraft versions: 1.19.3 – 1.19.2 – 1.19.1 – 1.19 – 1.18.2 – 1.18.1 – 1.18 – 1.17.1 – 1.17 – 1.16.5 – 1.16 – 1.15.2 – 1.15 – 1.14.4 – 1.14 – 1.13.2 – 1.13 – 1.12.2 – 1.12 – 1.11.2 – 1.11 – 1.10.2 – 1.10 – 1.9.4 – 1.9 – 1.8.9 – 1.8
Screenshots & Video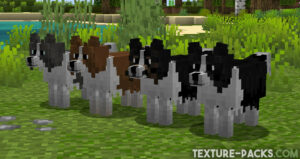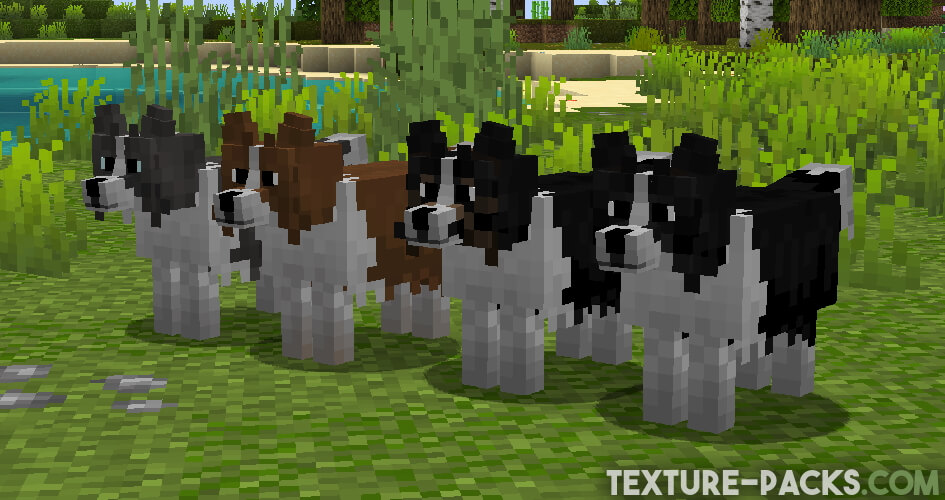 How to install Better Dogs Texture Pack
1. The Better Dogs texture pack only works if you also install Optifine. This mod is only available for the Minecraft PC version, so all Bedrock players will be left empty-handed. However, this should not confuse you, because the normal Better Dogs pack is not a mod.
2. Go to options after the complete installation of Optifine, then to video settings, and finally click on quality. There you have to enable random entities. Do exactly the same for custom entity models. This is the most important step and you should make sure that you have done everything right.
3. Now download the Better Dogs texture pack. The file size is very small because the textures have only a 16×16 resolution.
4. Now go to the options screen again and go to resource packs. Click on "open pack folder" and move the downloaded Better Dogs texture pack into this folder.
5. It often happens that Minecraft asks you if you really want to load Better Dogs. The game mistakenly thinks that the pack was made for an older or newer version of the game. This is not true, so you can click "Yes" and import the file without any worries. This step is a stumbling block for many players because they are afraid of doing something wrong. There is no reason for this if you have done everything as described in this tutorial.
Better Dogs Texture Pack Download
| | | | |
| --- | --- | --- | --- |
| Progress: | Resolution: | Operating systems: | File size: |
| 100 % | 16x | Windows, Android, iOS, macOS, Linux | 999.08 KB |