ADVERTISEMENT
Are you tired of dealing with players who use XRay texture packs on your Minecraft server? Well, we have some exciting news for you! The German developer Phoenix616 has created an incredible solution that can render those XRay packs useless and even help you trace and catch the culprits. In this article, we will guide you through the process of preventing and tracing XRay on your server using the Anti XRay texture pack.
It's important to understand that while you cannot completely prevent players from installing an XRay texture pack and joining your server, the program aims to neutralize any advantage they might gain. The creator wants to create a fair and enjoyable gaming experience for everyone. Even if players join your server with the best XRay tools, they will find their efforts fruitless.
Many Minecraft servers have their own economic systems where players trade blocks, buy/sell items, or engage in virtual commerce. Cheats can disrupt the server economy by allowing players to quickly accumulate rare or valuable resources, devaluing the efforts of others. Anti XRay prevents such problems, ensuring that players engage in fair resource gathering and maintaining a stable server ecosystem. Furthermore, XRay Ultimate can give unfair advantages in locating enemy players, their bases, or hidden traps in PvP modes. By implementing the pack by Phoenix616, server owners can create a level playing field, encouraging strategic gameplay, and fostering an enjoyable PvP and survival experience for all participants.
Lite vs Full Version
In the lite version of Anti XRay for Minecraft, the focus is on restoring the default models of ores. By doing so, it eliminates the special models that facilitate XRay vision while keeping the textures intact. This means that players on your server can still enjoy the benefits of other packs, such as custom models.
For those who opt for the full version, it goes a step further by restoring the default models of all blocks, not just ores. However, it's important to note that using the full version may override any custom models from other texture packs. While this ensures comprehensive XRay protection on your Minecraft server, it's essential to consider the potential impact on customizations made by players using additional resource packs.
By selectively blocking only the custom models associated with XRay exploits, the pack effectively neutralizes the ability to see through blocks while maintaining the integrity of normal textures. This ensures that your players can still personalize their Minecraft gameplay without any bugs.
Anti XRay Plugin
However, if you still encounter instances where players manage to use XRay despite the installed server pack, our team recommends installing the CoreProtect plugin. This fantastic plugin is a fast, efficient, data logging and anti-griefing tool. No mod can bypass this great plugin. With Core Protect, you can gather valuable information on any suspicious activities on your server and take appropriate actions to maintain the integrity of your server. The first version of Core Protect was released in 2012 and is the best anti-griefing plugin nowadays. Please remember that Core Protect will only track events that occur after its installation. Therefore, we advise installing it as soon as possible to maximize its effectiveness.
Anti XRay is compatible with these Minecraft versions: 1.20.2 – 1.20.1 – 1.20 – 1.19.4 – 1.19.3 – 1.19.2 – 1.19.1 – 1.19 – 1.18.2 – 1.18 – 1.17.1 – 1.17 – 1.16.5 – 1.16 – 1.15.2 – 1.15
---
Screenshot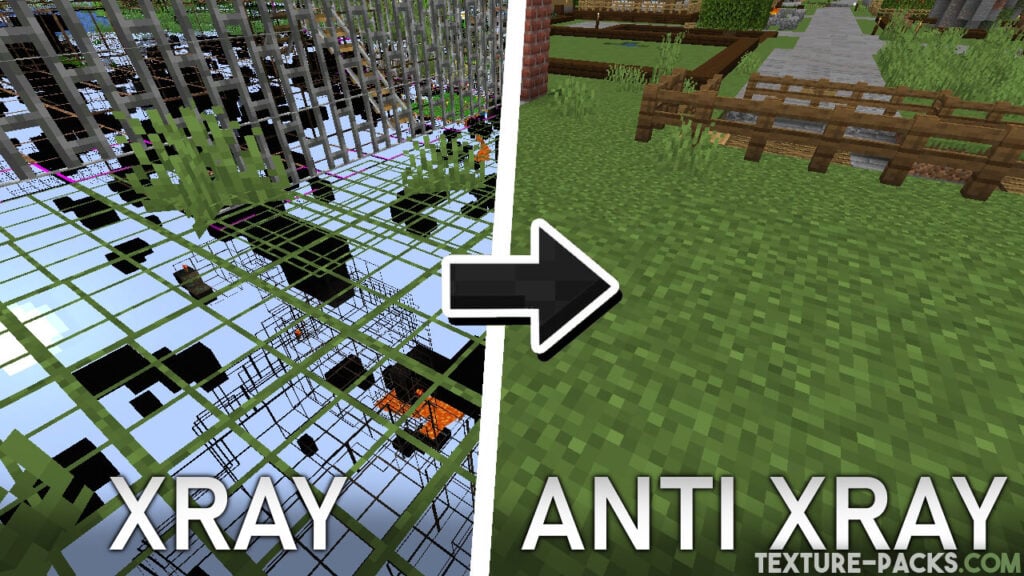 How to install Anti XRay Texture Pack
First and foremost, you need to ensure that you are running a relatively new Minecraft version on your server or realm. This tutorial works with Bukkit, Spigot, PaperMC, Aternos, and all other modified Minecraft servers.
Click on the Anti XRay texture pack download link. Make sure you have the correct version compatible with your Minecraft server or realm.
Access your server or realm's control panel or file manager. Locate the "resourcepacks" folder within the server files. Upload the downloaded software file into this folder. If you're using a realm, you can do this by going to the "World Options" section and selecting "Resource Packs."
Access your server or realm's configuration settings. Look for an option related to resource packs or texture packs. The specific location may vary depending on the server hosting service or the realm settings.
Enable the option to use a server texture pack on the server or realm. Some hosting platforms provide checkboxes or toggle switches for this purpose. Make sure to save the changes. In some cases, you may need to enter the URL or file path of the pack in the hosting settings. If prompted, provide the location of the uploaded file within the "resourcepacks" folder.
To apply the changes and make Anti XRay the standard pack, restart your Minecraft server or realm. This ensures that all players who join will automatically download and use the pack.
Inform your players about the new standard textures and their purpose. You can share this article to highlight the benefits to encourage their compliance. Provide them with instructions on how to enable texture packs in their Minecraft client settings, if necessary. By the way, it has been tested with some of the most common XRay cheats.
Anti XRay Texture Pack Download
ADVERTISEMENT