The Korean Netflix series Squid Game is a real phenomenon, as it was the number one most popular series in a very short time. This huge success has made the actors famous all over the world. It doesn't take long for such topics to be added by players in Minecraft. Accordingly, there is now a free Squid Game texture pack that contains the most memorable things from the series.
All the important outfits are available as armour, which can be seen in every episode. For example, you can dress up as a worker who helps run each game. You can choose between the gold, iron and diamond armour, because they are all the workers' outfits. In contrast, the chain armour is for staff members who do not wear a mask. However, it is not very popular because anyone who is unmasked once in Squid Game will be killed. The netherite armour is much more interesting, because it represents the front man. There is also the very popular candidate outfit, which makes you look like your favourite character.
It's much more convenient for you to change your outfit with the armour and you don't have to download an extra skin pack. Furthermore, several mobs have been changed in the Squid Game texture pack, like squids and zombies. More precisely, they now look like workers.
All players receive dalgona in the third episode. This is the Korean variant of honeycomb toffee. However, this does not exist in Minecraft, so without further ado the cookie is used as a substitute. The players have to pick out an stamped shape in Squid Game in order to advance one round. That's why the Squid Game texture pack also has the different shapes. You can use Optifine to rename a cookie to "triangle", "star" and "umbrella" to change its shape. Go to an anvil in the game to rename the item.
The Squid Game pack is compatible with these Minecraft versions: 1.18.2 – 1.18.1 – 1.18 – 1.17.1 – 1.17 – 1.8.9 – 1.8
Screenshots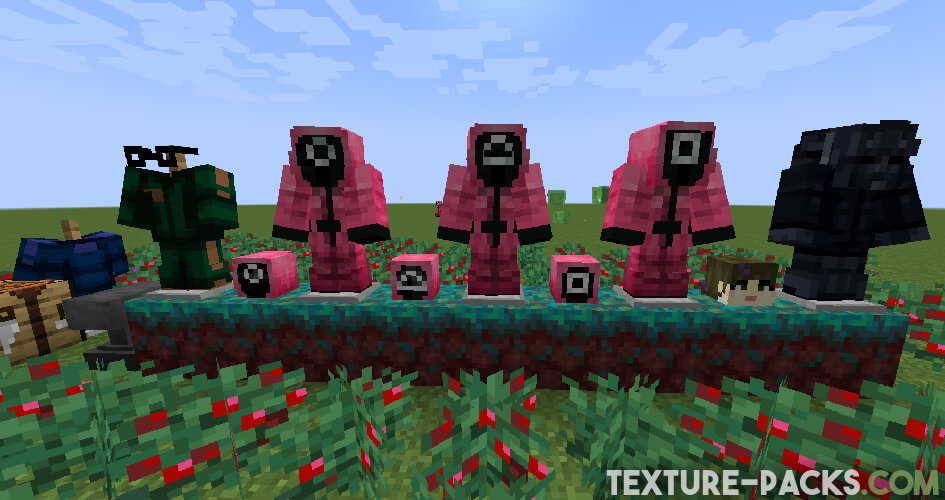 Squid Game Texture Pack Download
Click on the texture pack download link.
Launch Minecraft.
Go to resource packs in the options.
Open the resource pack folder at the bottom left.
Move the Smooth Operator ZIP file to this folder.
Click on the pack icon in Minecraft and move the file to the right side.
Creativity

Armour

Popularity
Summary
The pack is quite simple and is a small add-on for all fans of the series. More things will be added in the future, which is also imperative because the Squid Game texture pack only has quite little content.