ADVERTISEMENT
For a long time, Faithful was developed by a large team. Unfortunately, at some point, the harmony ended because the project leader felt too powerful in his position. In other words, he was almost megalomaniac. When he started to permanently ban others on the team's discord because they disagreed with him, it was finally too much for some team members. The result was that they created their own Compliance 64x texture pack. Originally the name was Faithful 64x, but since the team split, the pack has been renamed.
By the way, they see the whole thing as an opportunity to show off their design skills more effectively. Some were unhappy with the textures that Vizzy created back then. This problem won't happen again in the future, because now all team members enjoy much more freedom in their work.
In addition, a good number of Compliance 64x add-ons are available for download. In the past, these add-ons were also part of Faithful 32x. There are also Compliance resource packs for Minecraft Modpacks. This allows you to use the pack even when you are playing with mods. You also have access to Compliance for Minecraft Dungeons. To be honest, this is quite extraordinary, as there are only a few texture packs available for this game edition.
In addition, one thing is particularly noteworthy. All Compliance texture packs for Java, MCPE, and Dungeons are free. Many creators charge several hundred Minecoins. All in all, you have a thousand ways to play these great textures. Except for console players, everyone can enjoy these textures.
Compliance 64x is compatible with these Minecraft versions: 1.19.4 – 1.19.3 – 1.19.2 – 1.19.1 – 1.19 – 1.18.2 – 1.18.1 – 1.18 – 1.17.1 – 1.17 – 1.16.5 – 1.16 – 1.15.2 – 1.15 – 1.14.4 – 1.14 – 1.13.2 – 1.13 – 1.12.2 – 1.12 – 1.11.2 – 1.11 – 1.10.2 – 1.10 – 1.9.4 – 1.9 – 1.8.9 – 1.8
Screenshots & Video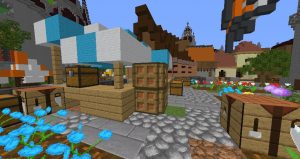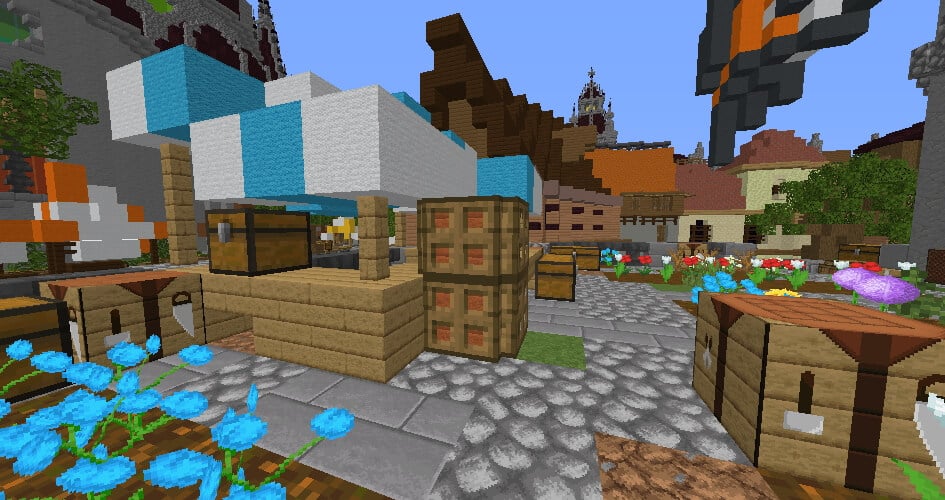 At this point, you should have a look at the screenshots. Every single shot shows a different environment, so you can get a good overview of all blocks and items. The textures are four times more detailed than normal and therefore four times more beautiful than normal.
How to download and install Compliance 64x Texture Pack
Minecraft Bedrock Edition:
The Bedrock version is available for free only for Windows 10, Android, and iOS. On our site, you can find the official link that will redirect you to Mediafire.
Click on the download button on the Curseforge page.
Then you have to go to your download directory.
Click on the downloaded .mcpack file to import the pack.
Now the game starts automatically and the texture pack is installed.
Minecraft Java Edition:
In preparation for the actual installation, you should install Optifine.
Click on the download link for the Java Edition. You will be redirected to Curseforge so you can install Compliance 64x.
Open the Minecraft Launcher and start the game.
In the main menu click on options and then on resource packs.
Move the downloaded file into the Minecraft window.
Now a question appears, which you answer with yes so that all textures can be loaded.
This installation tutorial works for Windows, Linux, and Mac.
Will Compliance ever be available on the Bedrock Edition Marketplace?
Unfortunately, getting resource packs onto the Marketplace is a lengthy and complicated process and a free pack hasn't been published to the Marketplace yet. This will take a lot of time, but yes, the developer team planning to eventually release Compliance on the Marketplace if possible. If releasing a free resource pack on the marketplace is not possible, the pack will not be available there.
Why is the pack called Compliance?
Since the project initially started as a Faithful breakaway, the developer team looked for a name that was similar to Faithful. After some brainstorming they decided on Compliance because it sounded cool and wasn't used anywhere else.
Items

Blocks

Mobs

Creativity
Summary
Compliance 64x has the goal to look similar to the Vanilla Minecraft, but with a much better resolution. Nevertheless, the Vanilla style is kept. The graphics are extremely detailed.