Starting with Minecraft version 1.6, which was released in 2013, Texture Packs have been renamed to Resource Packs. However, the name has not really caught on until today. In the following step-by-step instructions you will learn how to install a Texture Pack in any resolution.
First of all download a Texture / Resource Pack from our website.
Texture-Packs.com is one of the best websites you can find, because we always offer legal, tested and working download links for the reviewed resource packs. All of our many different Texture Packs, Resource Packs, Shaders and Mods are tested and used by thousands of visitors, players and YouTuber.
There is also a huge advantage for you: Our website is multilingual. Accordingly, the most important texts are available in German and English. Click on the small flag, which you usually find in the upper right corner or in the sidebar, and the article will be displayed in another language.
The process of downloading and installing at Texture-Packs.com may be new to you, as our site is unique. That's why we keep getting messages that someone doesn't understand where the download button is. Nevertheless the process is explained quickly and you will reach the download site even faster in the future.
Steps on How to Download from Texture-Packs.com
You should complete the following steps so that the download is fast and without problems.
1. Visit our website https://texture-packs.com/

Because of the fact that only a small typing error can cause you to end up on the wrong website, check our URL: https://texture-packs.com correctly.
After you have successfully found us, you will find different categories you can filter by. The newest and most current Texture Packs are always on top.
2. Choose a texture pack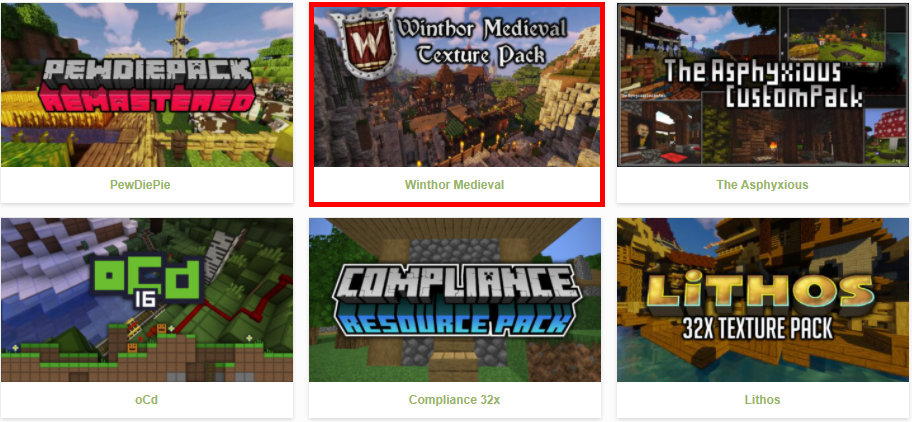 Either you click on the thumbnail or the name of the pack.
3. Learn about the pack
According to your choice you will now be redirected. On the Texture Pack page you will find some useful information for you. Normally you will find a text, screenshots and a star rating.
Some useful information can be found here. To give you the best possible impression, we have always included a short YouTube showcase. We recommend you to watch the video till the end.
4. Scroll down to the official Download Links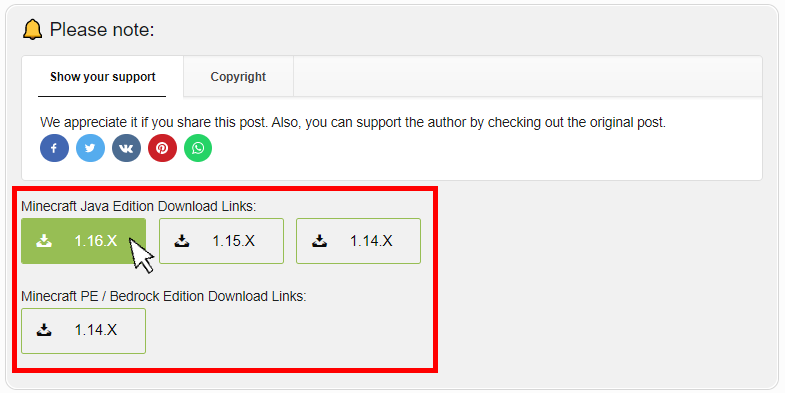 Above this section you will find a short version of the installation tutorial. In the download area itself you will find a list of available Minecraft versions. Of course this are the official download links.
However, some packs have more than one version e.g. Low-Edition, High-Edition etc., so special attention is needed here.
Congratulations! Now you know how Texture-Packs.com works. But that was only the first part of this detailed guide.
Installation Tutorial
Now that you have successfully downloaded the texture pack of your choice, we will move on to the second section of this article. Now we will explain how to install the pack and start Minecraft. Either watch the short YouTube tutorial or the tutorial with pictures.
Launch Minecraft and navigate to "Options".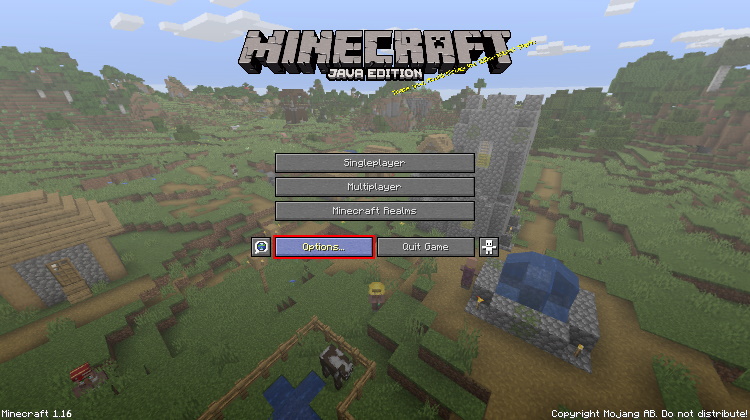 Then click on "Resource Packs".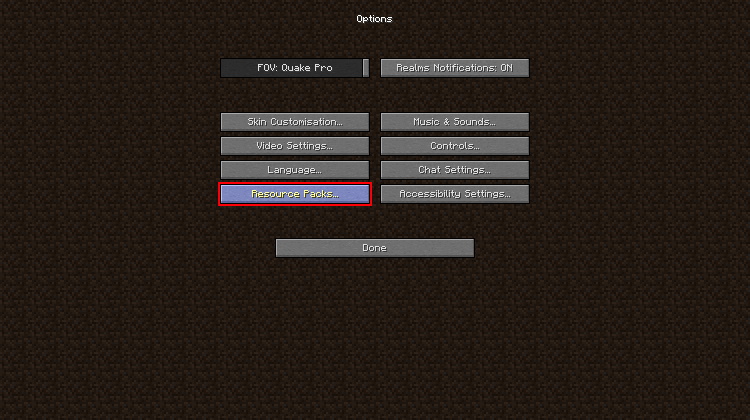 Open the resource pack folder.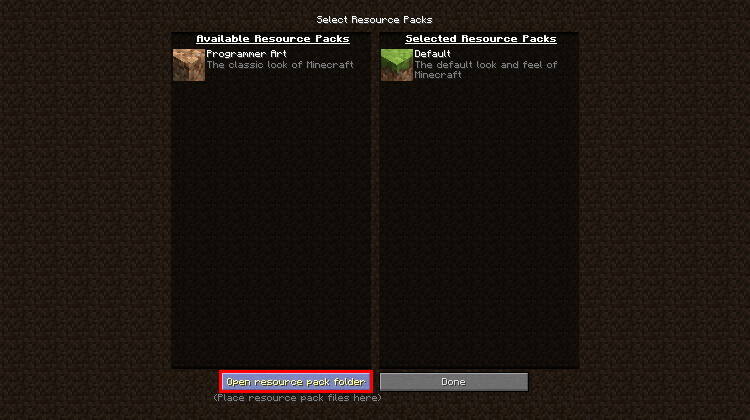 Move the Resource Pack into the folder and activate the pack.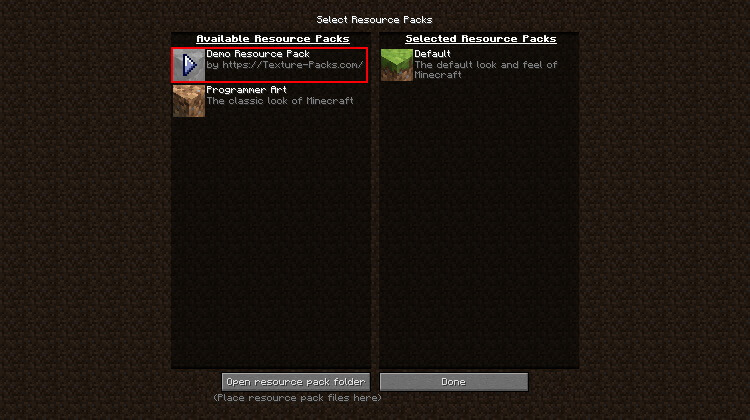 Enjoy the new textures! Share it with your friends if it helped you.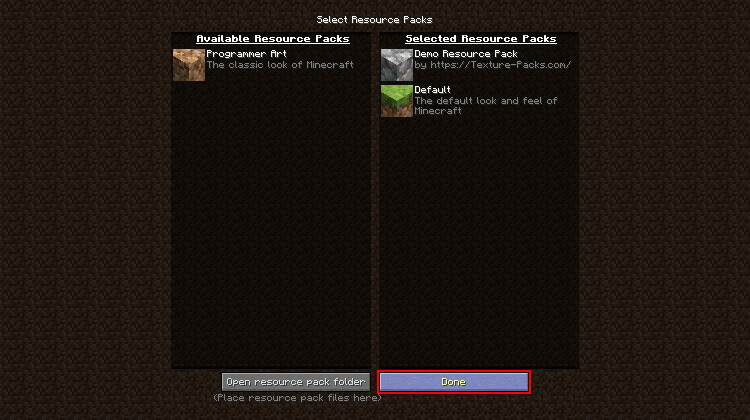 What resolution should your Resource Pack have?
If you want your texture pack to have more of a pixelated retro look like the standard textures, a resolution of <16×16 as with the default textures is of course a good choice, but for realistic packs you need a higher resolution where you can still see small details, e.g. 128×128 pixels.
However, packs with high resolutions need a lot of computer power when used, and not every computer can use such packs.
There is also the possibility to offer a pack in different resolutions, so that also players with slower computers can use the pack, but of course this requires additional work when shrinking the textures.
Also for comic packs, like the Sphax PureBDcraft, higher resolutions are possible, so that outlines and contours don't look so pixelated, and of course mixed forms are possible, which have resolutions of 64×64 or 32×32 pixels and mix different styles or deliberately pixelated, but still look detailed.
What style and colouring should the texture pack have?
Should your texture pack look more realistic or more comic-like? or a mixture of both? and should it look more rough, dark, cold or creepy or more bright, friendly and colorful?
It's best to think about this at the beginning, so that the textures have a similar style and later match each other in appearance.
Realistic texture packs use textures cut out of photos, which can also be changed more or less, comic packs are usually drawn by the user.