You probably want to install LabyMod 1.16.5, 1.12.2 or 1.8.9 for Minecraft. Here you will find a simple step-by-step guide that will take you from download to the actual game. This modification includes an FPS boost, shows your coordinates and the wear of your armor. All in all, one of the best known and best PvP mod. The developer is LabyStudio, who is also developer on the biggest European Minecraft server: GommeHD.net. Meanwhile it has grown into a whole company. Something similar that will surely interest you is the Badlion client, which will also give your Minecraft a new look.
How to download and install LabyMod
It couldn't be simpler. In the early days of the mod, it was developed with Minecraft Forge, but in the meantime this meeting is no longer necessary. If you still want Forge, you don't have to install anything extra, because the installer will install Forge on its own.
1) Download the latest version of the client on this page under Downloads. Minecraft should be closed.
2) Now double-click on the new file.
3) Select your desired Minecraft version from the menu that appears.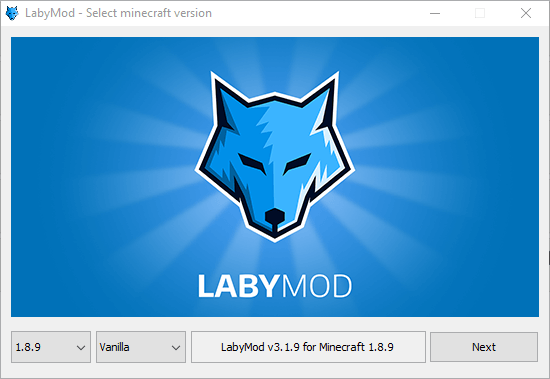 4) With the "Next" button you will get to the next menu.
5) After that you can theoretically choose lots of addons to enhance your Minecraft.
Overview of the Addons:
• OptiFine by sp614x
• Resourcepacks24 Mod by LabyStudio
• ToggleSneak/Sprint by deez
• ItemPhysics by CreativeMD
• BetterHat by thehippomaster21
• Damage Indicator by LabyStudio
• WorldEditCUI by lahwran
• XaerosMinimap by xaero96
• DirectionHUD by bspkrs
• BattysCoordinates by BatHeart
• KeyStrokesMod by Fyu
• SettingsProfile Mod by LabyStudio
• GommeHD.net CWMod by LabyStudio
• AccountManager by LabyStudio
• PixelCam Mod by CrushedPixel
• PrankedMod
• CosmeticsMod
• MLG-Helper by MysteriousHacks
After you have checked the desired mods, you can click on "Install".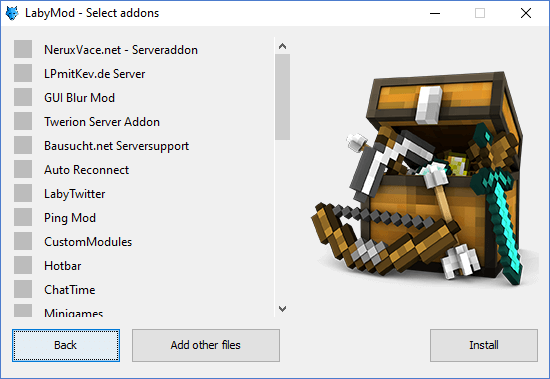 6) Therefore this is already the last step and here you will see again which extensions you have added manually. If desired, you can also change the installation path. Finally you only have to click on "Install" and LabyMod is completely installed.
However, it is possible that the launcher will ask you if you want to install the recommended Forge version, without which LabyMod will not work. Previously you always had to download and install Forge externally, but now it's just a click away. At least a small time saving and for example shaders can be downloaded without problems.

LabyMod FAQ
1
I have problems with LabyMod 2, where can I get help?
Unfortunately LabyMod 2 is no longer supported. For this reason it is recommended to install the latest version of LabyMod to be able to use all features.
2
I have problems installing LabyMod for Minecraft, what can I do?
First you should check if Java is installed or the latest version is used. If the latest Java version is already in use, try the program Jarfix.
3
Which languages are available in LabyMod?
Supported languages are: English, American, French, German, Italian, Portuguese, Brazilian, Norwegian, Danish, Spanish, Swiss, Russian, Polish, Dutch, Romanian, Croatian, Greek, Turkish, Arabic, Slovak, Czech, Chinese, Japanese, Hungarian, Israeli, Swedish, Estonian, Korean, Ukrainian, Bulgarian, and Finnish. Some of these languages are not fully translated, which is the exception.
4
For which versions of Minecraft is LabyMod downloadable?
Currently you can download LabyMod for Minecraft versions 1.16.5, 1.12.2 and 1.8.9. For a PvP mod this is absolutely sufficient.
LabyMod Download Links
LabyMod actually only offers advantages for you and can be adjusted and used in many ways due to the wide range of addons. Therefore you won't want to imagine how much work it takes, because the overview is perfect and everything can be found quickly. Furthermore you can support the developers for small money and buy LabyCoins, Cosmetics and Emotes. But there is nothing against you using LabyMod for free.
However, it is a small disadvantage that the mod is only available for Minecraft 1.8.9, 1.12.2 and 1.16.5. This denies access to players who play on newer Minecraft versions. However, since many PvP players play on older updates, this fact would not be true for many.
If you have a question, check the FAQ above or the official FAQ.
🔔 Please note:
We appreciate it if you share this post. Also, you can support the author by checking out the
original post
None of the files are hosted on our server. All direct download links on our website are provided by the authors. The packs are free of viruses.
Minecraft Java Edition Download Link:
LabyMod Download
---
---