Download Minecraft 1.20 Trails and Tales: Explore the ancient art of archaeology, new biomes, mobs, and armor trims!
Minecraft 1.20 Release
On June 7, 2023, Mojang released the highly anticipated Minecraft 1.20 Trails and Tales Update, bringing a plethora of exciting new features to the beloved sandbox game. In this article, we'll explore the major additions and improvements introduced in this update.
For example, Minecraft 1.20 has brought a range of gameplay changes, which may pique the interest of avid players. The game menus have been refined, with different block arrangements in the creative menu. This improvement allows for easier navigation and access to various building blocks. The new menu is perfect for professional builders. However, this also means that all content creators need to update their packs to make the menu work properly. That's why we paid extra attention when choosing the best Minecraft 1.20 texture packs.
New Mobs
The Trails and Tales Update introduces several new mobs to the Minecraft world, each bringing its unique characteristics and behavior. Among these new creatures are:
Sniffer: Meet the sniffer, a peculiar new mob that roams the Minecraft world. The mob vote winner of Minecraft Live 2022, makes its debut in this update. Resembling a giant alien-like creature, the sniffer has a curious behavior of sniffing around and digging for items buried underground. It can unearth various valuable items and even new things, like torchflowers and pitcher pods.
Camel: Camels are now a part of the desert biome, offering a new method of transportation. You can ride camels across the vast deserts, allowing two players to travel together on servers. This mob can either sprint or walk quickly through your Minecraft 1.20 world.
New Biome: Cherry Grove
Another significant addition in the Minecraft 1.20 update is the cherry grove biome. This biome features pink-blossomed cherry trees and can be found in the mountains, often near meadows. The cherry wood set accompanies this addition, offering various wooden items crafted from cherry wood. Alongside the cherry grove, you can now explore the bamboo wood set. This set includes bamboo planks and a unique mosaic plank variant made from bamboo. Read the next section to learn more about the new blocks.
New Blocks and Decorative Elements
Learn more about the new blocks in Minecraft 1.20:
Bamboo: It's a versatile and renewable resource that can now be crafted into various blocks, such as bamboo planks, stairs, slabs, and even bamboo mosaics. This addition further expands the building possibilities.
Cherry Blocks: With the introduction of the cherry grove biome, you can now obtain cherry wood blocks and cherry leaves. These wood blocks can be crafted into cherry wood planks, stairs, slabs, fences, gates, doors, and more.
Hanging Signs: You can place signs sideways on blocks, allowing for creative sign placements on buildings or in decorative setups. Additionally, these hanging signs can be attached to each other, forming chains and creating visually appealing signage solutions.
Decorative Pots: Decorative pots can be crafted using any of the twenty pottery sherds or bricks items. In addition, they can be adorned with various symbols using specialized clay shards obtained through archaeology. These pots serve as excellent decorative elements for gardens, interiors, and other building projects.
Chiseled Bookshelf: Can store up to six books, but requires a silk touch axe to mine.
Calibrated Sculk Sensor: New variant of the classic sculk sensor. They don't spawn naturally, but you can use them to filter vibrations based on their frequency level.
Piglin Head: If a charged creeper kills a piglin in Minecraft 1.20, they will now drop their heads.
Torchflower: Torchflower seeds are now part of the farmland biomes. They are important for the new sniffers because torchflower seeds can be used to breed and tempt sniffers. By the way, torchflower crops can be grown using bonemeal.
Archaeology and the Archaeologist
Furthermore, the Minecraft 1.20 update adds archaeology, allowing players to discover ancient artifacts buried beneath the surface. To aid in your archaeological endeavors, you'll use the craftable brush item to uncover hidden treasures. From now on, you can be an Archaeologist in the game and find hidden items in suspicious sand or suspicious gravel in autogenerated structures, like the new trail ruins. You can read more about the ruins in the next section of the article.
New Structures: Trail Ruins
One of the major highlights of the Trails and Tales Update is the addition of Trail Ruins. These fascinating structures can be found buried underground, presenting a challenge for players to spot their distinctive terracotta protrusions. Within these ruins, you'll encounter four types of armor trim templates and even discover a unique music disc, "Relic" by Aaron Cherof, which can be played in a Jukebox. Plus, you can hear more new tracks composed by Aaron Cherof in other biomes.
New Crafting Features and Redesigned Smithing Table
The Trails and Tales Update brings a host of new crafting features. Notably, beds, carpets, and wool can now be re-dyed, allowing you to change the color according to your preferences. Also, the smithing table has been redesigned to allow for physical equipment upgrades and modifications. Now, alongside combining a piece of equipment and materials, you'll need a required item called a smithing template to define the type of upgrade. Two categories of smithing templates are available: armor trim and netherite upgrade.
With the addition of armor trims, you can now customize your armor to add decorative patterns and designs. By using different materials such as diamonds, amethysts, emeralds, and more, you can craft armor that not only provides protection but also looks aesthetically pleasing. These trims are purely visual and can be applied to helmets, chestplates, leggings, and boots.
On top of that, 1.20 also includes various technical changes, such as improved detection of redstone buttons and knobs and the ability to place mob heads on jukeboxes to play their corresponding mob sounds.
New Damage Types
One of the notable changes in Minecraft 1.20 is the introduction of new damage types. Previously, if a player used the /kill command while outside the world border, it would result in an unintended exit from the world. Now, Mojang has addressed this issue by making the /kill command a distinct damage type, preventing players from unintentionally falling out of the world. Additionally, there's now a separate damage type for getting caught outside the world border
Looking Ahead: Minecraft 1.21
While Minecraft 1.20 has thrilled players with its exciting additions, Mojang has already set its sights on the next update, Minecraft 1.21. At the time of writing, specific details about the 1.21 update remain scarce. However, fans can rest assured that any news or information about this upcoming version will be promptly shared on our website!
Video
&

Screenshots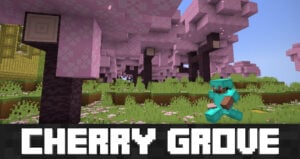 How to install Minecraft 1.20
If you're itching to embark on a thrilling journey of storytelling and creativity, download and install Minecraft 1.20 Trails and Tales Update! You can download Minecraft 1.20 for free if you have already purchased the game previously. This update is available for a wide range of platforms. So, whether you're playing on Android, iOS, PlayStation, Xbox, Nintendo, Amazon Fire, Chromebook, or PC (Windows, Linux, macOS), you can join in on the adventure.
Select your platform and click on one of our links in our download section.
You will be redirected and have to wait some seconds until the Minecraft 1.20 file is ready.
After that, tap on the official Minecraft 1.20 download link to start downloading the launcher or APK file on the official site. The download may take a few moments depending on your internet speed.
After the installation is complete, you'll see a confirmation message stating that Minecraft 1.20 has been successfully installed on your device.
Now, you can open the launcher or app and start playing Minecraft 1.20.
Minecraft 1.20 Download – Official Links